The tributes and remembrances for Kobe Bryant continue to stream in, sometimes in very interesting ways. Shareef O'Neal – Shaq's son – recently tweeted a photo of the beginnings of a new tattoo he's getting. This time it's not his father (as he's done in the past), it's in honor of Lakers legend Kobe Bryant and his daughter Gianna. The pair were among nine people who died in a tragic helicopter crash near Los Angeles back on January 26th.
The new art was displayed in just its early stages…there's more to come (see the pic below). It's going on Shareef's lower right leg. The tattoos (there may be more than one by the time the work is completed) depict a No. 2 Mamba Academy jersey for Gianna and the numbers 24 and 8, both worn by Bryant during his 20-year NBA career.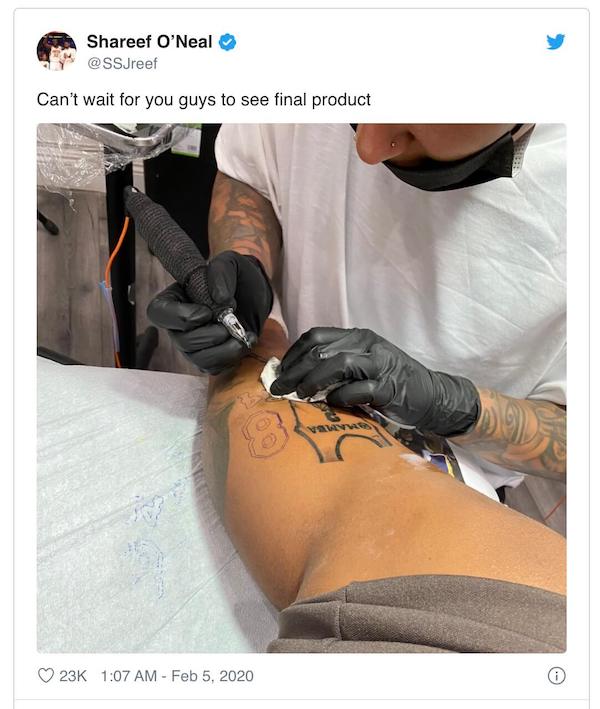 Shareef O'Neal and Kobe were close. In fact, the last known communication from Bryant was with O'Neal – in the form of a message on Twitter – just hours before the crash in the foggy hills surrounding Los Angeles. Kobe, his daughter and the others on the helicopter were headed to a youth basketball league game. 
In the Twitter message, Kobe asked about Shareef's college plans, tweeting, "You good fam?" O'Neal has announced he'll soon transfer out of UCLA, and may go to his fathers' alma mater Louisiana State University (yet as of this writing, that has not been decided or announced officially).
Both Shareef and Shaq have been speaking of their relationship with Kobe over the years. Shaq and his colleagues from the TNT program "Inside the NBA" did a fantastic program on Kobe just days after the accident. The younger O'Neal has been vocal on social media as well… talking about his grief over Bryant's untimely passing. He has shared various stories of Bryant's tutelage and generosity, which included gifting O'Neal his 2009 NBA All-Star Most Valuable Player award.
Recently, Shareef told TMZ we would make it a point to honor his friend and the five-time NBA champion every time he steps on the court. "I just plan on playing for him every time I play. I'm going to just do it for him, do it for the family, do it for the people that lost their lives," he said.
Shareef continued: "It's always gonna be in my mind. It's a crazy, crazy feeling to think about it, but it's always gonna be in my mind."
Shareef O'Neal isn't the only player to use a tattoo to offer tribute and create a way to remember Kobe as the years pass. Lakers teammates LeBron James and Anthony Davis both got tattoos in honor of Bryant.