The NBA's All-Star Weekend is here, and the league says it will have special services to honor both Kobe Bryant and former league Commissioner David Stern, who passed on New Year's Day. This week, Today sat down with the crew from TNT's "Inside the NBA" program to talk about Kobe, the game, their program, and plans for the future. 
The video of the interview is below. Check out Shaq, Charles Barkley, Kenny Smith and Ernie Johnson talking with Today host Craig Melvin. (A longer video / full interview is also available online.) As Kobe's former Lakers teammate, Shaq talked about how he's still having a hard time accepting and coping with the loss of his former teammate. 
"It was very hard," O'Neal said when he first heard the news. "I've never seen anything like this before. I was at the house the day it happened and my son brought me the thing. You know how the internet is. Stop playing with me, get out of my face with that right now. Just stop and then I got the calls. A guy who helped me become as big as I am, and we will always be forever linked."
Along with Shaq, the TNT crew of Barkley, Smith and Johnson have taken the sow on the road to Chicago for the annual NBA All-Star Game. Bryant was no stranger to the annual game of the best of the best; he was selected to the  All-Star team 18 times in his career, and was named the games Most Valuable Player (MVP) four times, which ties an NBA record.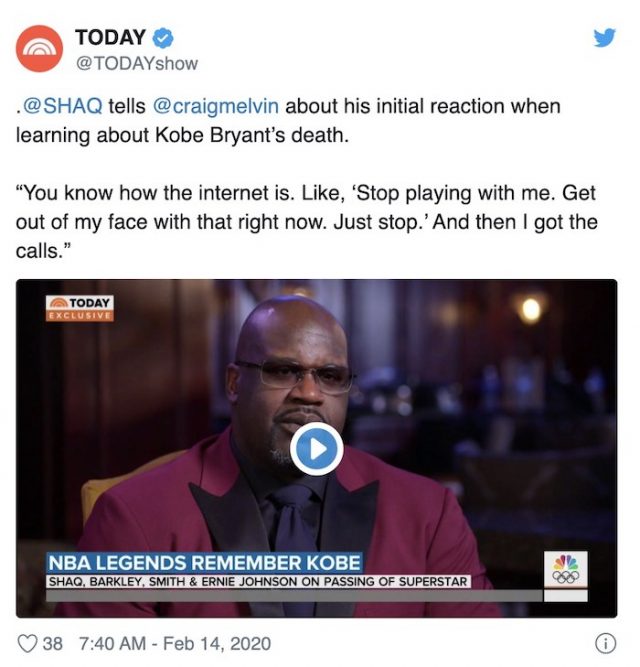 Kenny Smith, a former star with the Houston Rockets: "It's a relatable tragedy. We all jump in a minivan. We all do that with our kids. He was doing it in a helicopter. I looked at it more as not a great player, but a dad was lost and a coach was lost."
Charles Barkley, who ended his career with the Phoenix Suns: "And for me, me and Kobe were not close but I just started crying when I got the news. I felt like I had lost a member of my family."
Of course Shaq and Bryant were one of the most dominant duos in NBA history. From 1996-2004 the two helped the Lakers win three consecutive NBA titles. O'Neal was named NBA MVP in 2000 and he also won three consecutive NBA Finals MVP awards from 2000-2002. After O'Neal left the Lakers in 2004, Bryant helped the team win two more NBA championships in 2009 and 2010.
After Kobe's passing, there's been some controversy over the coverage of his off-the-court life. There have been questions if that discussion was appropriate in the full remembrances of Kobe after his death. The TNT crew addressed those stories, and Today anchor Craig Melvin quoted a post from another famous former Laker, Kareem Abdul-Jabbar. "Kobe was even more exceptional, because he learned from his mistakes, and he devoted himself to being a better person." 
Check out the Today Show interview here: