As has been reported in the past – both here on the ShaqFu blog and elsewhere – Kobe Bryant's last message before the helicopter crash that claimed his and his daughter's life was to Shaq's son Shareef O'Neal. That crash killed a total of nine people, and happened as Kobe and daughter Gianna were flying to a youth basketball league game. 
Bryant texted Shareef O'Neal just hours before his death last month. Recently, Shareef told Sports Illustrated how much that last text communication means to him. He told interviewers he looks at the text every day, remembering Kobe. He's even taken a screenshot of the text and made it the wallpaper of his phone. The message was Kobe asking about Shareef's plans for transferring between colleges, asking Shaq's son, "You good fam?" Recently, Shareef announced he is transferring from UCLA to his dad's alma mater LSU (Louisiana State University). 
Shareef told Sports Illustrated: "I look at it every day. It's a special moment. It's crazy that three hours before that he texted me asking if I'm good. He was always checking in on me. I was literally going, I would've seen him that day because I was going to the same place he was going. It's crazy. It's still unbelievable."
Shareef said he was supposed to go to Bryant's Mamba Sports Academy, where Bryant and daughter Gianna were flying to that fateful day. 
Shareef: "There's always those people in life you look at like superheroes and that nothing bad can ever happen to them. It's still unbelievable to me, I still don't even want to believe it. It's just crazy to think about. It races through my mind, but it made me focus more. I feel like it's changed my basketball drive to times 10. I'm gonna do it for him because I know he'd want me to do well. He always told me he wanted me to do well. It's crazy, but I'm gonna play for him."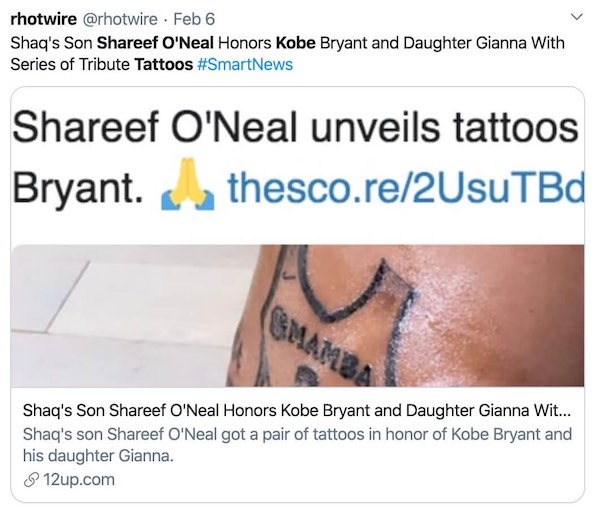 See our previous ShaqFu Radio posts about other Kobe tributes. Shareef has been getting a new tattoo on his lower right leg that includes the #2 jersey worn by Gianna Bryant at her fathers' Mamba Academy, along with Kobe's own numbers of 24 and 8. (Both those numbers were worn by Bryant during his 20-year career with the Los Angeles Lakers.)
In related news, this past weekend was the NBA All-Star game, which featured ceremonies to remember both Kobe and former NBA Commissioner David Stern. For Kobe, singer and actress Jennifer Hudson turned in quite the emotional tribute before the game got started at the United Center in Chicago.
Hudson sang the classic "For All We Know," accompanied by a touching video of Bryant and his daughter Gianna. Check out the full video below. Hudson was introduced by former Laker and NBA icon (and current businessman) Magic Johnson, who told the crowd he wanted everyone to "come together" to honor Bryant and former NBA Commissioner David Stern, who died on New Year's Day. "We will never see another basketball player quite like Kobe," Johnson said. "He was passionate about being a great father, husband, filmmaker."