Staples Center – the home of the Los Angeles Lakers and so many more superstars and huge events – was the site for the public memorial service for Kobe Bryant and his daughter Gianna Monday morning. The house was filled with celebrities, athletes and fans – all coming together to celebrate Kobe's life and career. 
It's been almost a month since Kobe, Gianna and seven others were killed in a tragic helicopter crash on a foggy morning in the hills near Calabasas, Calif. The investigation of the accident continues. 
The event was streamed on several social media outlets and drew thousands of viewers. The service included performances from Beyoncé Knowles and Alicia Keys, and funny, heartfelt moments from Michael Jordan and Shaquille O'Neal. Jordan delivered the one-liner of the day, saying: "I'm going to have to look at another crying meme."
Three of the biggest names in women's basketball also spoke, a nod to Gianna's involvement in the sport and Kobe's support of her and the women's game.
Speaking for the first time since the death of her husband and daughter, Vanessa Bryant spoke of the bond between Kobe and Gianna. "God knew they couldn't be on this earth without each other," she said. "He had to bring them home together."
Shaquille O'Neal was one of the featured speakers at the service. Shaq and Kobe won three NBA Championship titles in the early 2000's. Probably not surprisingly, it was Shaq who brought some humor and smiles to the occasion, definitely helping to lift the spirits and break some tension for those gathered. He talked about – and made light of – their past disagreements. Watch the full video of Shaq's talk…check out the video below.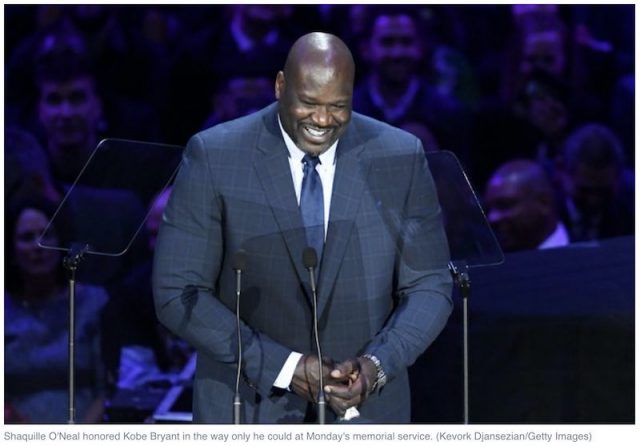 "Kobe and I have pushed one another to play some of the greatest basketball of all time and I am proud that no other team has accomplished the three-peat the Lakers have done since Shaq-and-the-Kobe Lakers did it," O'Neal said to cheers from the Staples Center crowd. "And yes, sometimes, like immature kids, we argued. We fought, bantered or insulted each other with off-handed remarks. Our feud. But make no mistake, folks thought we were on bad terms, when the cameras were turned off, he and I would throw a wink at each other."
O'Neal also told a story about how, after being told there is no "I" in the word "team," Bryant responded with the fact that there is the word "me." But an emotional O'Neal did get earnest and vowed to help Bryant's children learn their father's basketball moves — just not O'Neal's free throw motion.
"Mamba, you were taken away from us too soon," O'Neal said. "Your next chapter of life was just beginning. But now it is time for us to continue your legacy. You said yourself that everything negative — pressure, challenges — is all an opportunity for me to rise. So we now take that sage advice to now rise from anguish and begin with the healing. Just know that we have got your back, little brother. I'll look after things down here. I'll be sure to teach Natalia, Bianca, and baby Capri all your moves. And I promise I will not teach them my free throw techniques."