The Big Man was back on stage as DJ Diesel this past weekend for a couple of appearances. He played hot dance and techno tracks for the big crowd gathered outside in the snow at Aspen's Snow Lodge. Then another show – this one indoors and for a much bigger crowd – at Aspen's famous Belly Up venue. 
In both shows, Shaq – a.k.a. DJ Diesel – played a set of remixes from Oasis, Bon Jovi and techno hits. And along with the music, he had additional tributes to his old friend and teammate, Kobe Bryant.
At the outdoor show, Shaq wore a giant-sized camo-style getup head-to-toe. For headgear, he wore a cool ski cap, complete with red bunny ears (or something like that), and midway through his set he pulled out a Kobe headband that was added to the hat. To close out, Shaq's hype man asked the crowd to raise their lit phones in tribute to Kobe. Check out the pic below for the full regalia: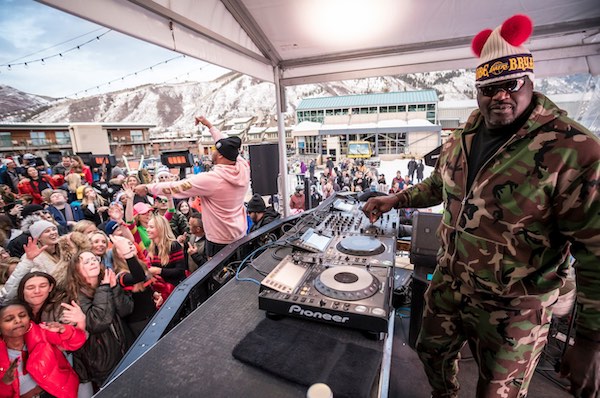 In an email exchange with the celebrity news website Page Six, Shaq wrote, "I am always listening for new music when I travel or walk into arenas for games, etc. I constantly ask my team on the road and other artists what's hot right now and what tracks are going off in other DJs sets, and I try to walk the line of the classics and the new."
As always, Shaq's sets in Aspen did not disappoint. 
In other news related to Kobe Bryant: Alexis Altobelli, who lost her parents and sister in the same helicopter crash that killed Kobe and his daughter, will be getting an internship at a top sports agency. Kobe had apparently been working to help the young lady in the days before the fatal crash. 
Mega-sports-agent Scott Boras is slated to meet with the 16-year-old this week. He says the plan is to, "Create a community for her. We are going to take her to games, show her how our company, with 135 employees and all of its departments, works."
Even as the helicopter was in the air last month, carrying Kobe, his daughter and several others to Bryant's Newbury Park sports academy, the 41-year-old former Lakers superstar was texting L.A. general manager Rob Pelinka about an internship for Lexi. Pelinka told that story – and others – during the big memorial held for Kobe at Staples Center last week. 
Pelinka was Bryant's friend and former agent, and godfather to his daughter, Gianna, who died along with her dad and seven others in the January 26 crash in Calabasas.