When you're worth millions of dollars, and you make a bet with a friend who's also worth millions, there's probably no sense in wagering a dollar amount, right? So when Shaq and his old friend Dwyane Wade made a friendly bet on a recent NBA game, the two had to get creative when it came to the stakes. 
If you've been watching Shaq's "Inside the NBA" program on the TNT network, you might have caught the on-screen wager Shaq made with D-Wade on the outcome of a game between the Miami Heat and the Milwaukee Bucks. Of course, both Shaq and Wade both played for the Heat and won an NBA Championship in 2006.
And rather than come up with a dollar amount, Shaq let Wade specify the way the bet would be paid off. Wade's decision: Have Shaq let his hairline grow out. Shaq has been shaving his head for a long time, and he's not really (technically) bald. 
So if left to its own, Shaq's hair – or at least what's left of it – will grow, but not across his entire noggin. So on Tuesday's pregame show for the NBA on TNT, the 47 year-old O'Neal showed off his new "do." To say it looked a bit strange would be a major understatement. Shaq did say he "cleaned it up a little" to make it a bit more presentable…but it still looks…shall we say… different. 
"Let's just get it out of the way America. I had a bet against one of my good friends D. Wade," O'Neal said explaining that he predicted that the Milwaukee Bucks would beat the Miami Heat on Monday night.
Wade made the good pick for the game. The Heat – Wade's long-time team –  beat the Bucks 105-89. "I said Milwaukee was going to win by 20 and the Heat won," O'Neal said on the segment as Wade smiled proudly from the other side of the table. See the video below for the full take!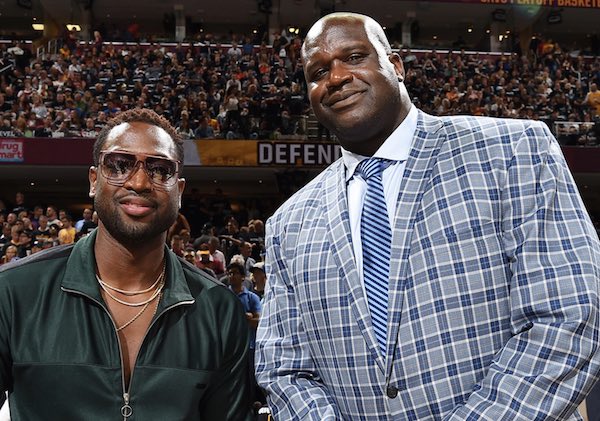 Shaq: "I said so what do you want me to do? Pay you? He said, 'Nah, you have to let your hairline grow out. We want to see your hairline looking like Kenny Smith,'" O'Neal said Wade told him of the former Houston Rockets star.
Despite having to take on the punishment, O'Neal explained he isn't ashamed. "I just lined it up for y'all, so y'all can see where my hairline stars," O'Neal said as the camera zoomed in to show his hairline starting extremely far back on his head.
"I look good, and I'm proud to do it, and I'm keeping it all week," O'Neal added. Although he's proud of the new look, fans and fellow athletes still poked fun at the NBA star on Twitter.
"@SHAQ hairline looks like your skullcap after you take off your helmet," former Green Bay Packers player Will Blackmon tweeted.
"Shaq's hairline begins and ends at the top of his head lmaoooo" one fan wrote on Twitter.
"Shaq's hairline is the highlight of this month," another user tweeted.
"Shaq's hairline has me in shambles," a different fan said.