First, credit where credit is due: A big shout out from the ShaqFu Radio blog to our friends at Bleacher Report for the meat of this story… great work, guys! For the full breakdown on how Shaq would fare in the Association today, check out: https://bleacherreport.com/articles/2879479-would-shaquille-oneal-dominate-todays-nba
Check out some of the power teams today, and the stars that play on them. Bleacher Report talks about the Houston Rockets, a team BR says is "fully committed" to what's called "small ball" these days. That means playing with stars like the six-foot seven-inch tall Robert Covington and six-foot-five center P.J. Tucker.
What a change from Shaq's time in the NBA… Bleacher Report speculates the Big Man would be having a big night pretty much every time he took the floor. How big? Think the career-high 61 he put up against the LA Clippers on the night of his birthday in March of 2000. 
In an interview earlier this year, Shaq said, "I would actually love to play in today's NBA because I hate to say it, and I'm not talking about the players, but the game is soft." He made sure reporters heard him correctly, saying "The players are not soft, but the game is soft."
In fact, trying to stop Shaq (usually without a lot of success) was something that at least one former team GM says "Got a lot of 7-footers paid," as teams looked for big bodies to throw up against O'Neal…
When Shaq was drafted out of LSU in 1992, the game was very, very different…filled with highlight-reel big men and centers like Hakeem Olajuwon, David Robinson, Patrick Ewing, Alonzo Mourning, Dikembe Mutombo, Brad Daugherty and Vlade Divac. Big centers were – pardon the pun – the center of the team, and no big man on the roster usually meant no post-season appearances.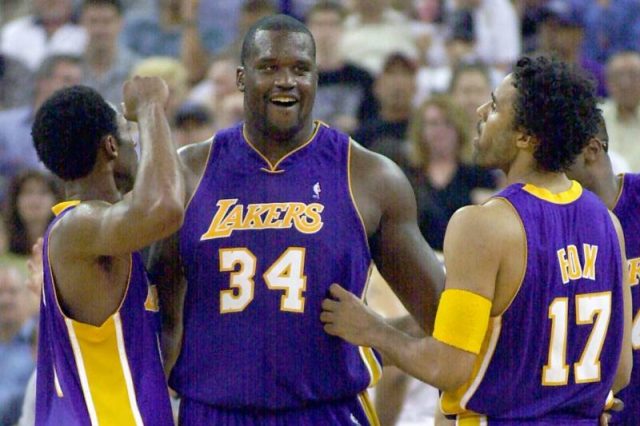 Today that's changed. Teams like the Denver Nuggets and Philadelphia Sixers (and the aforementioned Rockets) are all playing without the tall trees to fill the paint. 
As Bleacher Report points out, Shaq would most likely have been in trouble trying to play defense with today's modern pace-and-space game, but BR and others have always noted that his offensive power would certainly offset any deficiencies at the other end of the court. 
Remember Hack-A-Shaq? For those that don't, that's how some teams tried to stop O'Neal, but fouling him before he could shoot, and letting his go to the free-throw line, where he often (lets be honest!) struggled. But as Shaq notes, "I would average more [points today] because you can't foul as hard [in today's game]."
Another reason Shaq would really like to be playing today? Easy: the MONEY. "I'm so jealous right now," O'Neal said. "Steph [Curry] is the first $40 million [player for a single season]. I'm happy for him, but on the inside, I'm jealous. I always say to myself, I wish I was 15 years younger."
Still, how about those small-ball, stats-driven teams. Houston is probably the best example of today's analytics-driven teams. The game is changing, and some teams are working to take advantage of the latest trends… but as Bleacher Report says, Shaq at his peak would simply eat that roster alive.