Happy Birthday Shaq! Here's a quick career and personal rundown, thanks to our friends at Wikipedia…
Considered one of the greatest players in National Basketball Association history, Shaquille Rashaun "Shaq" O'Neal is now retired from the game, but far from retired from life. His big "day job" these days is as an NBA analyst on the television program Inside the NBA on the TNT network. Along with being one of the best, he's also one of the biggest; at 7 ft 1 inch tall and 325 pounds (in playing days). O'Neal played for six teams over his 19-year career.
Following his time at Louisiana State University, O'Neal was drafted by the Orlando Magic with the first overall pick in the 1992 NBA draft. He quickly became one of the best centers in the league, winning Rookie of the Year in 1992–93 and leading his team to the 1995 NBA Finals. After four years with the Magic, O'Neal signed as a free agent with the Los Angeles Lakers. Along with Kobe Bryant and a host of other stars, the Lakers won three consecutive championships in 2000, 2001, and 2002.
But, there was a little trouble in paradise after that 2002 Championship. With some tension between O'Neal and Kobe, Shaq was traded to the Miami Heat in 2004, and his fourth NBA championship followed in 2006. Midway through the 2007–2008 season he was traded to the Phoenix Suns. After a season-and-a-half with the Suns, O'Neal was traded to the Cleveland Cavaliers in the 2009–10 season. O'Neal played his final season with the Boston Celtics in the 2010–11 before retiring.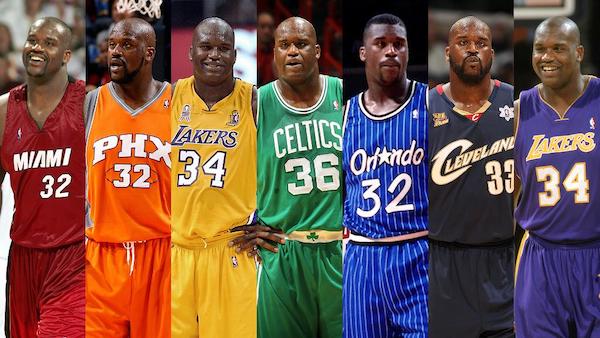 O'Neal's individual accolades include the 1999–2000 MVP award, the 1992–93 NBA Rookie of the Year award, 15 All-Star game selections, three All-Star Game MVP awards, three Finals MVP awards, two scoring titles, 14 All-NBA team selections, and three NBA All-Defensive Team selections. He is one of only three players to win NBA MVP, All-Star game MVP and Finals MVP awards in the same year (2000); the other players are Willis Reed in 1970 and Michael Jordan in 1996 and 1998.
He ranks 8th all-time in points scored, 6th in field goals, 15th in rebounds, and 8th in blocks. Largely due to his ability to dunk the basketball, O'Neal also ranks third all-time in field goal percentage. Shaq was elected into the Naismith Memorial Basketball Hall of Fame in 2016. He was elected to the FIBA Hall of Fame in 2017.
In addition to his basketball career, O'Neal has released four rap albums, with his first, Shaq Diesel, going platinum. O'Neal is also an electronic music producer, and touring DJ, known as DJ Diesel. He has appeared in numerous films and has starred in his own reality shows, Shaq's Big Challenge and Shaq Vs.. He hosts The Big Podcast with Shaq. He's also involved with several electronic gaming companies, and has a very large presence in business. Among other things, he's on the Board of Directors of Papa John's Pizza. Shaq is also on many (many!) TV commercials.
Happy Birthday, Shaq! Here's to many, many more… Check out the Big Man's big highlight reel below.