As coronavirus continues to spread and wreak havoc around the world, the National Basketball Association has taken the huge step to suspend the remainder of this year's season… all games cancelled. 
Credit to ESPN.com for much of the information contained in this story. As of this writing, two NBA players – both members of the Utah Jazz – have tested positive for the virus, Donovan Mitchell and Rudy Gilbert. It was Gilbert's diagnosis that led to the postponement of Wednesday's game featuring the Jazz and Oklahoma City Thunder.
The NBA made the move and issued the announcement at 9:30 Wednesday night, even as several games were still being played. A fan video showed Dallas Mavericks owner Mark Cuban receiving the news on his phone while sitting on the sidelines of a Mavs game. He then gave the word to his coach and team on the bench.
In the official statement, Association officials said all games would be suspended until further notice. "The NBA will use this hiatus to determine next steps for moving forward in regard to the coronavirus pandemic."
Also Wednesday, the NBA G League announced in a statement that it has "suspended the 2019-20 season, effective after tonight's games."
As for Cuban, always a man to speak his mind, offered his initial reaction, "This is crazy. This can't be true. I mean, it's not within the realm of possibility. It seemed more like out of a movie than reality." 
Cuban then added that he isn't an expert and defers to NBA commissioner Adam Silver on these matters. "I trust Adam [Silver]. You know what? It's really not about basketball or money," Cuban said. "Literally, if this thing is exploding to the point where all of a sudden players and others have had it, you think about your family. You want to make sure you're doing this the right way. Now it's much more personal, and you've seen what's happened in other countries, but just the whole idea that it's come this close and potentially a couple players have it, just, 'stunning' isn't the right word. Just crazy."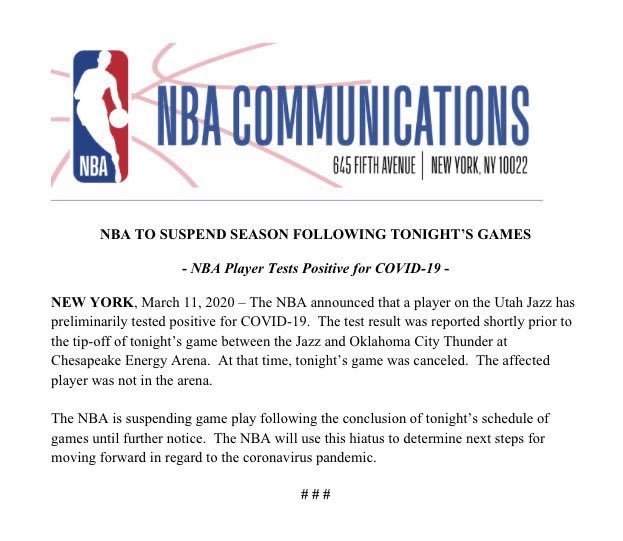 The league office says teams can continue to practice, yet players have been told they should not have visitors from out of town.
In a bizarre scene in Oklahoma City last night, players were on the floor for warm-ups prior to the game against Utah. They were told to return to the locker rooms. About 30 minutes later, fans were told by the public-address announcer that the game was postponed "due to unforeseen circumstances."
The Thunder players were cleared to leave the arena, but Utah's players are still there, and sources told Wojnarowski that the team would need to coordinate with Oklahoma and Salt Lake City public health organizations before it could return to Utah.
Players from teams the Jazz have played within the past 10 days were told to self-quarantine, sources told ESPN's Brian Windhorst. Those teams are the Cleveland Cavaliers, New York Knicks, Boston Celtics, Detroit Pistons and Toronto Raptors.
Charlotte Hornets coach James Borrego, speaking before his team played Wednesday at Miami — where news of the shutdown broke during the fourth quarter — said, "These are scary times."
There are 259 games, roughly 21% of the schedule, left to play this season — and no one knows if, or when, things will resume. "We believe in the leadership of the league," Philadelphia 76ers general manager Elton Brand said.
Scott Van Pelt broke the news on ESPN last night. Watch the video below.