It was just a week or so ago, but so much has changed in our world since then. It was the NBA and league commissioner Adam Silver who made the call and shut down the NBA for at least 30 days, to keep both fans and players safe. 
Now the outbreak is affecting life in so many ways, not just sports. Former superstar and current TV game analyst Shaquille O'Neal is himself out of the TNT job (although he has lots more to keep him busy), but that hasn't stopped him from looking forward to bouncing back to the NBA, and more "regular" life in general, once the virus outbreak has peaked and subsided. 
Recently TNT put on a special broadcast of the "Inside the NBA" show with Shaq and other hosts Ernie Johnson, Charles Barkely and Kenny Smith. Shaq says that while he's not fully familiar with the situation, he's confident his fellow Americans should be able to handle the crisis with ease. He mentioned the Americans' competitive fire as one of the biggest reasons why they will be able to thrive in spite of the gloomy outlook COVID-19 casts upon everyone.
Shaq speaking to Talkbasket.net: "What I know about this country, is that everybody is a competitor. Even though it's bad, I'm always hopeful. I know for a fact there's a young guy right now trying to figure it out. Hopefully in 30 days we'll come up with something and make this thing over."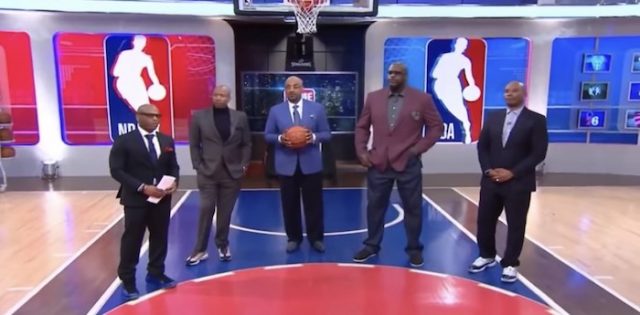 In a related story, Utah Jazz star Donovan Mitchell – one of the first two NBA players to test positive for coronavirus, issued his own statement on Instagram:
"Thanks to everyone  who has been reaching out since hearing the news about my positive test. We are all learning more about the seriousness of this situation and hopefully people can continue to educate themselves and realize that they need to behave responsibly both for their own health and for the well being of those around them. I am going to keep following the advice of our medical staff and hope that we can all come together and be there for each other and for our neighbors who need our help." 
Players continue to help out in their communities as well. One is Cleveland Cavs star Kevin Love, who personally donated $100,000 to help the support staff at the Cleveland arena who are out of their jobs during the NBA suspension. 
Click below to watch the full video from TNT's "Inside the NBA."