Even though the NBA is not currently playing any games (at the time of this writing), there are still game and player-related updates regarding Covid-19 and the game. 
More players – both here in the US and around the world – are testing positive for the virus. Just yesterday (again, as of this writing), we learned that four more NBA players have tested positive…all members of the Brooklyn Nets, including former MVP and superstar Kevin Durant. Ironically, Durant hadn't played at all this season due to a torn Achilles, and he's said he was not planning on returning to the game this year. 
NBA spokesman Mike Bass says that a total of seven active players in the US have tested positive for the virus. That's seven in the U.S., but around the world, players in other leagues are also being affected. Former NBA forward Anthony Randolph, who now plays in the Spanish league, has also tested positive. Randolph, who spent some time with the Golden State Warriors, now plays for Real Madrid Baloncesto. 
Like several other countries, Spain is under a fairly total lockdown to try to prevent the spread of the disease. Randolph says he and his family are self-quarantining at his condo in Madrid. His parents still live in his hometown of Dallas, and he says he's in contact with them often. 
Meanwhile, Randolph says he's doing his best to stay in shape, and he's got an interesting way to do it. He's playing Dance 2020 with his young daughter on their XBox game console.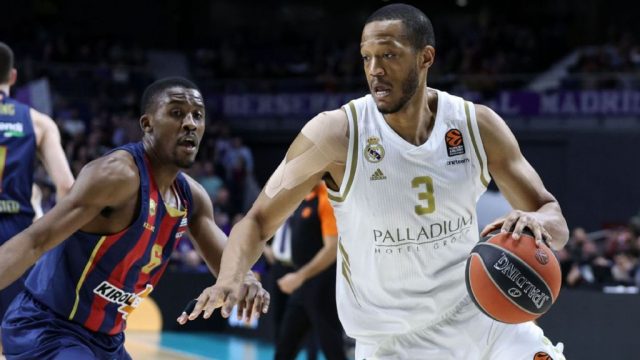 Also, a new story in USA TODAY notes that it's been one week since NBA Commissioner Adam Silver pulled the plug on the remainder of the NBA season. It's still unclear if games will resume at a later date, and there's been no decision yet as to how the rest of the season will be played – if at all. There's been talk of the league going directly into playoffs, but again, that's all depending on if the game resumes this season at all. 
It was Silver's bold decision to halt games that led to virtually every other pro and semi-professional sports league to shut down their seasons. A few games were played in empty stadiums and arenas, but even those games were quickly closed. No sport has been untouched by the effects of the virus, from the full cancellation of the NCAA's March Madness to the postponement of The Masters golf tournament. 
Not only that… It appears now (a week after the big decision) that Silver's move led to a much wider recognition of the spread of the virus, and the need to make big moves in order to slow down the spread. 
In an interview with USA TODAY Dr. Rishi Desai – the chief medical officer of medical and health sciences online learning platform "Osmosis" said Silver's actions were instrumental in getting politicians and business leaders to recognize and take action on the coronavirus threat. Desai: "He helped maybe more than anyone else I can think of right now to make that mental switch. It set off this domino effect."