Coming from any other former NBA superstar, this would be a joke, right? And maybe it is from Shaq, too. Just trying to fill some of the quarantine off-time with a little fun and games. But maybe…. 
In a recent interview, O'Neal says he would sometimes allow other players – the ones he liked and respected – score on him during regular NBA games. Speaking on Adam Lefkoe's show / podcast on Bleacher Report, Shaq said there was indeed a small handful of players that he liked and enjoyed watching them perform at their game, rather than stopping them with his all-time defensive skills and size. 
"There were guys that when we played them, I was such a fan I let them do what they wanted on me," O'Neal told Lefkoe. "White Chocolate (Jason Williams), I want him to go to work. Vince Carter, A.I. (Allen Iverson) and Tracy McGrady."
On the same podcast along with O'Neal were guests Dwyane Wade and Candace Parker. Shaq told the story of Iverson's highlight-reel moment of stepping over Ty Lue during Game 1 of the 2001 NBA Finals.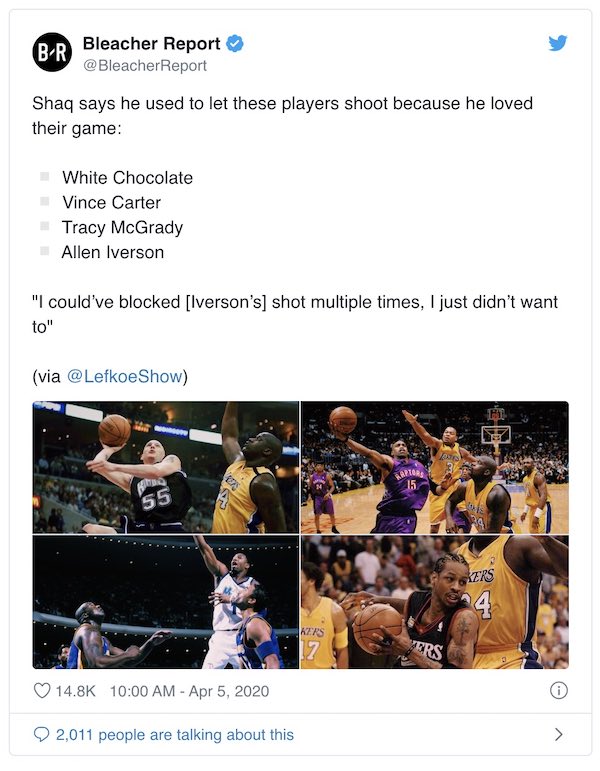 Shaq: "Every time we played A.I., I liked him crossing over and he was tough. I could've blocked his shot multiple times, I just didn't want to."
O'Neal called on former Miami Heat teammate Wade to back up his statements. Shaq, Wade and the Heat one the 2006 Championship. 
As for Iverson, he never won his own ring, but the 76ers legend gets plenty of respect from Shaq, who's got four pieces of Championship jewelry. "Iverson had the heart of a lion," O'Neal said. "He did it his way. I was glad to go into the Hall of Fame with him." 
Along with Iverson, Shaq also mentioned a few others he issued a free pass to, including Jason Williams, Vince Carter and Tracy McGrady. 
Setting the WayBack Machine: Iverson pretty much dominated Game 1 against L.A., in the 2000-01 NBA Finals. That game was the first loss for Los Angeles in the playoffs that year. It also turned out to be the only game the Lakers did not win in the postseason campaign on the way to the Championship. Shaq and crew dominated the Sixers in the next four games to claim the title in Game 5.