Shaq continues to make the rounds on the podcast circuit…most recently talking about the days before he signed on with Louisiana State University (LSU). How he made the rounds to a few big-name schools, and eventually landed in Baton Rouge.
On a recent appearance on the "Knuckleheads" show (part of The Players Tribune podcast series) hosted by Quentin Richardson and Darius Miles, Shaq laid out his travels, his decision-making, the guidance he got from his father and lots more. 
Back in the day – as Shaq was developing into a major talent in high school – there was quite a bit of interest in O'Neal coming from the University of North Carolina, UNC. 
What a score that would have been, right?!? UNC already had seen the likes of Michael Jordan, Vince Carter, Rasheed Wallace, Jerry Stackhouse, and countless other up-and-coming superstars. 
And UNC wasn't the only basketball powerhouse to come calling on the O'Neal family in recruitment efforts. On the podcast, host Darius Miles asks if there was any other school that had a shot at Shaq. 
Shaq's answer: I don't like people telling me stuff that sounded too good, cause I never heard that before. As a sophomore, I wasn't that good. Junior year, okay. Senior year, now I'm starting to make a name for myself. So now they were treating me like Jordan; I was like, "I'm good, but I ain't that good yet." 
So I went to North Carolina, Rick Fox showed me around, it was too, let me say this without being disrespectful, it wasn't hood enough for me (Chapel Hill), it was too, 'Hey sir,' I don't like that. So I went to North Carolina State, Jim Valvano. Actually, it was a guy at North Carolina State, name was Charles Shackleford, I took his whole style, he was Shaq first. So I was like I'm not going to play next to him, there cant be two Shaq's. I don't want to go there.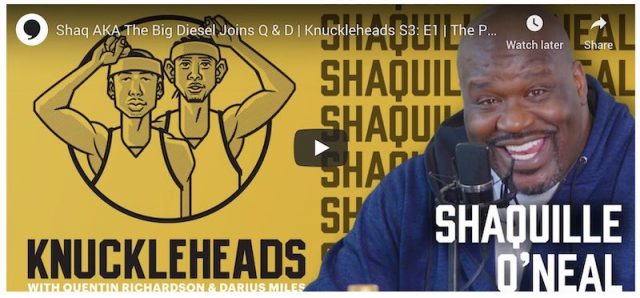 Watch a clip from the interview in the video below. On it, Shaq mentions Illinois (but says it was too cold for him), UNLV (too scary, he says, referring to the Vegas lifestyle), and then he got to Baton Rouge and LSU. Shaq says it felt more like home (indeed, it wasn't that far from his hometown), so ultimately, LSU was the choice. 
UNC and those other schoo;s missed out on Shaq… but LSU was probably the best choice the young O'Neal made at that point in life. During his time at LSU, Shaq was a two-time All American, two-time SEC Player of the Year, college player of the year by AP, and received the Adolph Rupp Trophy as NCAA men's basketball player of the year in 1991. Of course all those awards and accolades (not to mention the hard work!) led to his becoming the first-round pick in the 1992 NBA Draft.
Here's the page for the full story and video from Sports Illustrated: https://www.si.com/college/unc/basketball/shaq-at-unc