Even if there's still no basketball being played – and that means no Inside the NBA show on TNT – Shaq is still making waves on social media and TV with his new "Shaq Life" reality series (also on TNT). 
On a recent episode, O'Neal surprised his fans with a look into a part of his life that doesn't normally get a lot of headlines and video… his relationship with his oldest child, Taahirah O'Neal. Taahirah is the daughter of Shaq and his high school girlfriend, Arnetta Yardbourgh, who is a professional life coach. Their relationship came before his marriage to Shaunie in 2002. 
Video from this episode of Shaq Life came before the Covid-19 lockdown and the cancellation of most public gatherings. It shows Shaq attending Taahirah's graduation ceremony from Oglethorpe University, a liberal arts college in the north Atlanta suburb of Buckhead. Shaq flew in to see Taahirah's graduation late last year. 
In Shaq's TNT reality series, fans saw some beautiful interactions between the father and daughter during her graduation ceremony. As for Taahirah… she's definitely an overachiever (perhaps like father, like daughter?). She graduated magna cum laude, at the top of her class.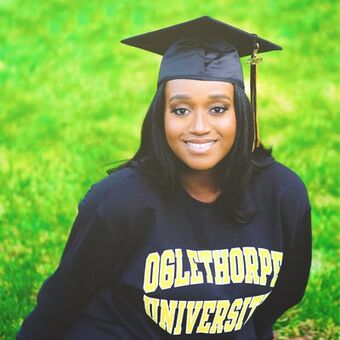 Talking about being there for his daughter, Shaq said, "I have six kids. When I was young, I missed a lot. A lot of birthdays, a lot of graduations. I let everybody down. I try to make up for that every day. You know, just try to be the best dad that I can."
Seems like Shaq already has plans for his super-smart daughter: "I look forward to (your) going to law school, getting your master's, and taking over my company so I can retire. I just want to say I love you with all my heart, and I'm so proud of you."
Taahirah knows she's been in the spotlight for years now, talking about being the daughter of two powerful parents. Back in 2016, she did an interview and talked about her determination to make her own path in life and to focus – for now – on her education. "I wouldn't change my childhood for anything in the world. I'm so blessed and fortunate to have the parents that I do have. But it was difficult at some times. I felt like I was being overshadowed by the success both of my parents had."
She even talked about the baggage that comes with being the child of well-known parents, especially her NBA-superstar father. "I just had a lot of people expect a lot of things out of me that weren't quite there yet. It was just a lot of frustration because your childhood is when you kind of come to terms with who you are. People liked to put me in the Shaq's daughter box, and I didn't like that box so much because I'm so much more than that."
As for Shaq's other children, he shares custody of Shareef, Amirah, Shaqir, and Me' arah with his ex-wife Shaunie. Shaq has also claimed Shaunie's son, Myles, as his own. 
Check out the promo video for this episode of "Shaq Life" below.