While we're all waiting for the (hopefully) return of the NBA season, there's still some good conversations going on out there about various fantasy scenarios and hoops history. The latest: Shaq says Michael Jordan would be an even bigger superstar in today's Association than when he played back in the day. 
On ESPN's Get Up program, O'Neal said he believed Jordan would be scoring an average of around 45 points per game. Wow! Of course Shaq had to get in a little plug for himself, too:  
"He would average 45 and the league would be complaining about two players," Shaq said. "They'd be like: 'Mike is too good and the kid named Shaq down in Orlando is too dominant. What are we going to do?'"
A lot of this conversation – about MJ and his place in the history of the game – has been brewing since the debut of the super-popular ESPN program called "The Last Dance." It's all about the final season Jordan played with the Chicago Bulls. 
So, how good would Jordan have been in the game as it is played today? debuted on ESPN last month, the discussion about how good Jordan would be playing under modern rules has been a hot topic.
Speaking on The Boardroom (another ESPN production) with Jay Williams, Brooklyn Nets star Kevin Durant said Jordan would very likely "fit in as the best player in the league."
Jordan's agent – David Falk – has chimed in himself, telling a sports-talk radio show that MJ would "average between 50 and 60 a game" and shoot 75 percent.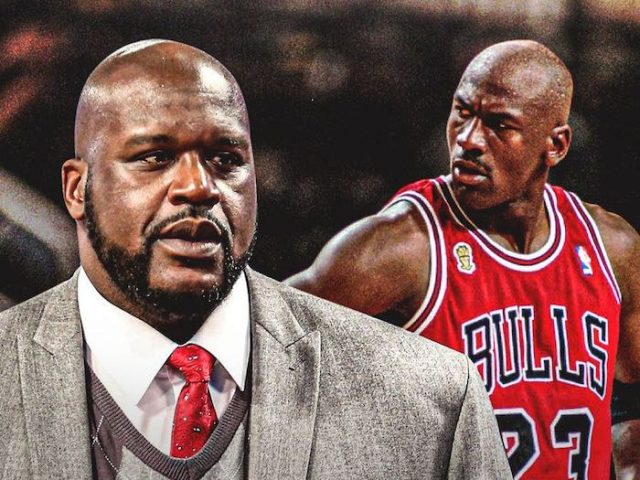 Game watchers and experts of all stripes agree that the league's rules on playing defense are a lot – shall we say – more relaxed today than in years gone by. For Jordan to average more than 40 a night would not be that big of a stretch, they say. Back in the day, he averaged 30.1 points per game for his playing career, and put up 37.1 PPG in the 1986-87 season. 
On a note of comparison, Houston Rockets star James Harden leads the league in this lockdown-restricted season with 34.4 per game. However, his shooting percentage of 43.5% would be the second-lowest single-season mark of Jordan's career with a minimum of 20 games played. Meaning MJ – with his higher shooting success rate – would probably be making quite a mark on today's NBA.