There's still lots of talk about if and when the current NBA season will be finished. A recent post here on ShaqFu Radio had the big man himself saying it would be better to simply cancel the rest of the season. Shaq says players and team staff would be way too rusty to compete and have a meaningful completion to the season. 
There was – in recent history -one season that did not play all the scheduled games, and Shaq's got some definite opinions on that, too. Speaking on his own podcast ("The Big Podcast," of course), O'Neal says he thinks the San Antonio Spurs' 1998-99 NBA title should be null and void.
Hall of Famer O'Neal says that as far as he's concerned, the Spurs and Tim Duncan only have four rings…not the five they currently wear. 
Why? For the same reason that would taint this year's season, if it would be completed in some form or fashion – it's a shortened season… the full schedule of games would not be played. They weren't played in the 98-99 season, either. 
Shaq says for him, that creates an "asterisk" title… meaning yes, there was a winner of the NBA Championship that year, but the win somehow doesn't measure up to a season filled with all the regular games and playoffs. In other words, Shaq says, it just doesn't count. 
On his show, Shaq said, "I'll tell all of San Antonio to its face – you only have four. It's an asterisk. That's what I think. I would tell Mr. Duncan to his face you have four rings. It says you have five but the asterisks don't count. In anything I do I never want asterisks about it."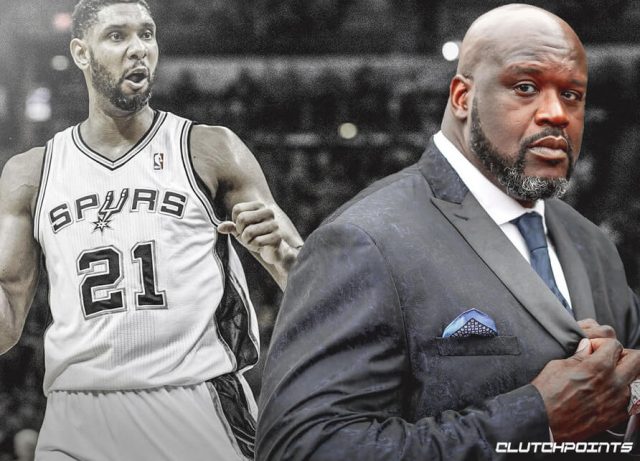 What happened 20 years ago? That 1998-99 NBA season was shortened due to a player strike and resulting lockout. When the season was brought back, teams were limited to a 50-game regular season, and the Spurs promptly went 37-13 before going 15-2 through the playoffs en route to the title.
Yes, Shaq has a connection to all this from playing days. O'Neal and his Lakers were swept out of the playoff picture by the Spurs in the conference semifinals. Sour grapes? Maybe…maybe not. It's also interesting to note that the eventual Champion Spurs had the relative good fortune of playing the eighth-seeded New York Knicks in the NBA Finals. Still, the Spurs had a great run on their way to winning the lockout-shortened season and Championship.
Interestingly, Shaq won four rings of his own…and he was recently ranked behind the Spurs Tim Duncan on ESPN's list of the top 74 players of all time. Maybe Shaq is simply trying to help solidify his position in hoops hierarchy. 
Will this year's NBA season ever finish, or will it be cancelled? That remains to be seen. Previously here on ShaqFu Radio, we've written about plans being floated to complete the season and playoffs – in whatever form they may take – in so-called "bubble locations." 
Las Vegas has been mentioned as a place where multiple courts could be set up in one of the giant-sized convention centers, and games could be played with no fans, only team members and perhaps some health-screened family as well. No word yet on if, when or how the season might resume… but lots of ideas are circulating. Stay tuned for the latest….