OK, old martial arts movie fans! Before anyone ever came up with the term GOAT – not counting barnyard animals, of course – Bruce Lee was probably the Greatest of All Time when it came to movies of that genre. (With apologies to Chuck Norris!) 
If you didn't know, our man Shaquille O'Neal was a huge fan, and his love for martial arts led to some training, and to putting that influence to work on some of his name-brand products. Now the Big Man is teaming up with shoe company Reebok to produce an eye-grabbing new sneaker…one that's a bit of a tribute to Bruce Lee.
The martial arts connection (as we say in Star Wars land) is "strong with this one." Shaq created an entire line of merchandise with the name "Shaq Fu" back in the mid-1990's. (Hey! Sounds like the name of our favorite online radio station and blog!) Not only wearable merch, Shaq Fu goodies also included a martial arts-based video game! 
Now, with the new "Shaq Life" docu-series making a splash on TV (what else is there to watch, really…?) Shaq and Reebok are out with a reboot (get it?) of the famous Shaq Attaq sneaker from way back when. You won't be able to miss it in stores…it's super-bright yellow through-and-through. is no stranger to tapping Eastern culture and designs thanks to his love for martial arts, previously creating a "Shaq Fu" merch line as well as a side-scrolling fighting game of the same name back in 1994. Now, ahead of the release for the basketball player's upcoming documentary Shaq Life, he has once again teamed up with Reebok and released the Shaq Attaq "Modern."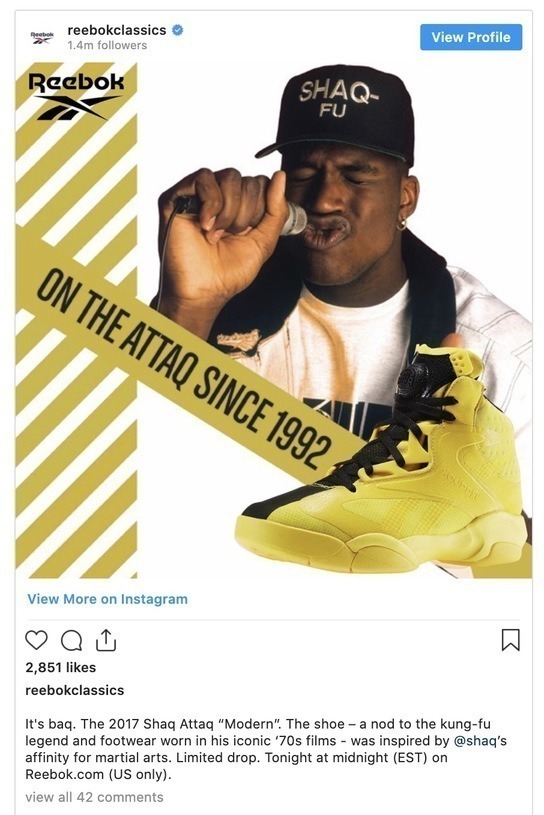 Check your movie collection, and go way, way back to 1978. Bruce Lee's "Game of Death" was all the kicking and chopping rage. In it, Lee wore a bright yellow jumpsuit with black striping. Exactly the same color scheme of the new Shaq Attaq shoe. 
The new shoe is bright yellow front to back and side to side. There's a contrasting black stripe down the center, extending into the lining itself. Branding comes in the form of a discreet "Reebok" label on the side and "SHAQ" embroidered on the heel… but with both in the same bright yellow, it'll be hard to spot from a distance. Except, of course, for that bright yellow color. On the inside, the shoes have two carbon fiber supports by the instep, offering a more futuristic look and feel to the sneaker.