More details are coming out after Shaquille O'Neal talked to members of the New Orleans Saints last week after the blowup concerning comments made by quarterback Drew Brees on the national anthem, the flag and more. 
Like lots of other businesses and groups, the team held a virtual, online meeting last week. Shaq had been scheduled to talk to the team even before all the news. While some of Brees' teammates spoke out against their QB's comments, Shaq urged the team to not let media reports divide them against each other. 
"They're going to try to divide you, just like they divided us with the Lakers! Me and Kobe [Bryant], we had a great thing going, but the media divided our team," O'Neal told the Saints. "We could have won five more championships! Stay strong. Don't let the media divide you! Don't let social media divide you!"
Shaq's comments came after Brees spoke to the online news site Yahoo Finance earlier last week. A bit of a firestorm erupted after Brees said that he believed players kneeling during the national anthem were disrespecting the flag and the military. Brees was called out by not only the media, but also several of his own team members. Brees later walked back his comments, and used the virtual team meeting as a way to apologize to the team.
Since then, O'Neal has talked about the meeting and his comments on "Inside the NBA" on the TNT network, where he would normally be discussing the ongoing NBA season. Of course that's been suspended, so the Inside the NBA team of commentators has been doing occasional shows to talk about the possibility of resuming the season, along with other sports-related news. Lately, the show's panel has also discussed race relations and other stories related to the death of George Floyd and the resulting nation-wide protests.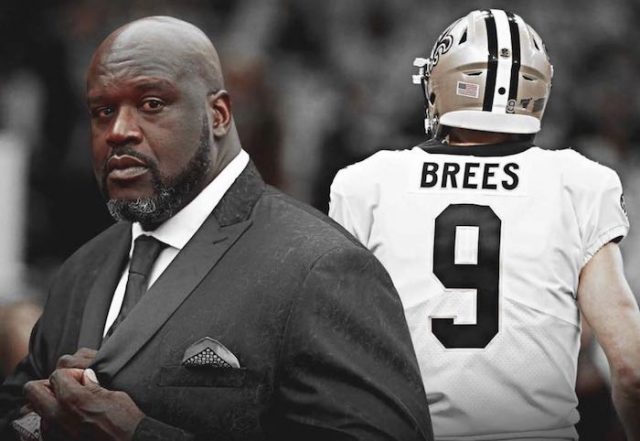 Shaq says Saints coach Sean Payton asked all participants in the meeting to keep it between those on the call, and Shaq said he would respect that. Still, he did talk a bit about how Brees' apology was accepted by his teammates.
"They said, 'Drew, we know your character. We know you stepped in some stuff that you can't get out of, but guess what: We want you to do more positive things and less talking.' And they all said we accept your apology," O'Neal said. (Tip 'o the hat to ESPN.com and NBC Sports for reporting on this story and for the quotes.) 
ESPN reporter Jeremy Fowler spoke to some of the Saints players at the meeting. At least one – who has not been identified – said it came as a surprise that Shaq was on the call. 
"He started speaking and I was like, 'Oh, s—, it's Shaq,'" the player told Fowler.
Brees apologized twice on social media for his comments, once on Thursday morning before the Saints' meeting and again on Friday evening. In the current environment, it's probably no surprise that the story didn't stop with the Saints. By last Friday (as of this writing) President Donald Trump tweeted that Brees should not have changed his stance…but Brees has stood by his apology on his own social media feeds and elsewhere. 
As for Shaq, NBA fans know that he and Kobe – who three consecutive championships together with the Los Angeles Lakers from 2000 to 2002 – shared a "challenging" off-court relationship with some bickering that was definitely picked up and amplified by sports media, especially during O'Neal's last season with the Lakers in 2004. It took years, but the two did patch up their relationship. When Bryant died earlier this year in a helicopter crash, O'Neal became emotional and remembered the "special relationship" he had with Bryant.
For more reaction – this from Charles Barkley – check out his full video by clicking here.