As protests and civil actions continue around the country in the aftermath of George Floyd's death at the hands of police in Minneapolis, Shaq says he's talking to his kids about staying safe, and interacting with authorities if it becomes necessary. 
On a recent appearance (via online video, of course) on the Jimmy Kimmel Live program, O'Neal says it's something he thinks about a lot. 
"I tell them, first of all, you have to try to diffuse the situation by showing respect because you have to understand that these people are also out here doing their job. So, you gotta diffuse the situation. And if it happens to get rough, don't do anything. Don't say anything. Just comply."
And, being the father that he is, O'Neal says if there's any need to talk to law enforcement or others of authority, he'll be the one to do the talking. 
"When it's all said and done, you call me," O'Neal said. "And if stuff gets out of hand, then I will handle it. I will be the one to come out there and act crazy. I don't want you to act crazy while you're out there by yourself. So, I just try to tell them (his kids) to just comply, to just listen."
For those who remember their Shaq-history, you'll recall that O'Neal was sworn in as a reserve police officer in South Florida back in 2015. Shaq has been steadfast in his opinion that what happened to Floyd, a 46-year-old unarmed black man, was absolutely wrong. 
"There's an old saying that goes, 'What's right is right and what's wrong is wrong,'" Shaq told the Jimmy Kimmel audience. "What happened to George Floyd was all the way wrong. Absolutely wrong. Uncalled for. I've never seen that technique taught. A lot of police officers I've talked to would never do that. Everybody's upset. Everybody's tired. We demand justice."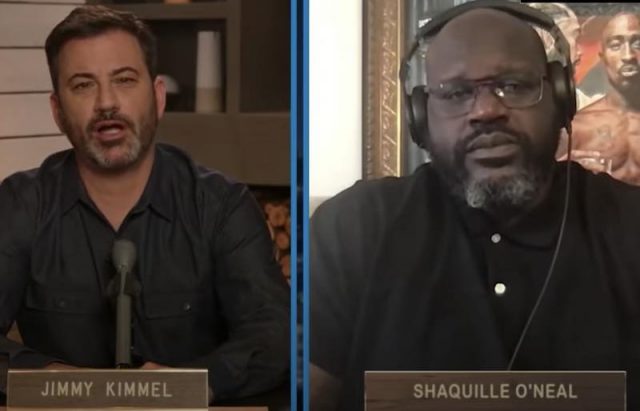 O'Neal acknowledged that even when a person is compliant, such as Floyd, abuses happen. That's something he's talked to his kids about…that things can go wrong even in what appear to be "normal" situations. 
Shaq: "…from the videos that I've seen with Mr. Floyd, he was compliant. I've seen three different videos. I saw one video, they had him on a wall. He wasn't talking back. He wasn't struggling. I saw another video of the car, you know, appears to be they were roughing him up. And then the last video, I see the officer with his knee on his neck. That's not supposed to happen but I have those conversations all the time. But I also tell them that, you know, just show respect." 
O'Neal added that he's been heartened by the nationwide protests and collective outrage following Floyd's senseless killing. 
"I'm 48 years old and I've seen, you know, outbreaks and riots before," he said. "This is the first time I think the country is doing it all at the same time. I've never seen it in more than one city."
Check out the video below for the full interview on Jimmy Kimmel Live.