So, quarantine restrictions are still in place… What's a family to do to celebrate a couple of major milestones in the kids' education? If you're the family of Shaquille O'Neal, the party must go on! 
Two big graduations in the O'Neal family recently: Amirah O'Neal graduating from high school, and heading off to college (when we all see what happens due to Covid-19 restrictions for colleges and universities)… and younger daughter Me'arah graduating from 8th grade. As we said, the party must – and did – go on. 
Like father, like daughter: 18-year-old Amirah "Mimi" O'Neal played basketball at Crossroads High School in Santa Monica, California, where she averaged 17.2 points per game and was a two-time All-State selection. Now, she's announced her intention to attend Louisiana State University, also just like her father, and also just like her older brother, Shareef.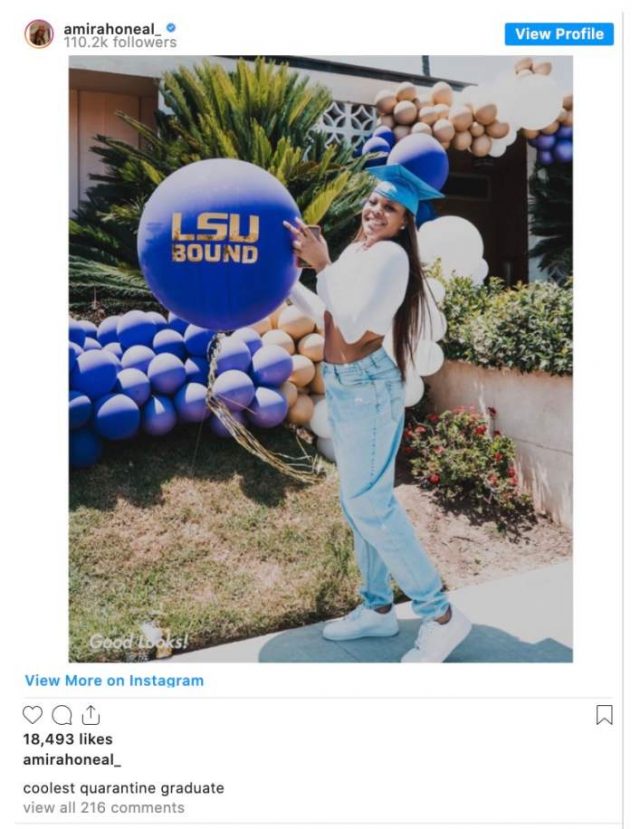 As for 14-year-old Me'arah O'Neal, she'll graduate high school as a member of the class 2024. Guess what? She also plays basketball, and she's planning on developing her own hoops career in high school. 
When the party came, it was mostly a family affair. The O'Neal house was decorated with purple and gold balloons (LSU's colors) in celebration of Amirah and Me'arah graduating, and the family made sure to share pictures of the celebration on Instagram. 
Shaunie O'Neal posted a heartfelt message to both of her daughters on their graduation, writing: "Both of my girls @amirahoneal_ & @mearahoneal_ graduated from high school and 8th grade! I am so proud of both of them! Me'Arah as you embark into this new chapter of your life, always know Mommy will always be in your corner! 
Some friends and family did make it to the party… all in masks, of course. Some just passed by the house and showed off signs of congratulations from their cars. 
Amirah O'Neal posted a picture of herself holding a purple balloon that read "LSU BOUND" and captioned it: "coolest quarantine graduate." Me'arah O'Neal also posted a picture of her and Amirah in their graduation caps and wrote in the caption: "Guess you can call us graduates… onto the next 🥳! 📸: @koolmac."