Time for another edition of NBA Memories… something we just came up with here at ShaqFu Radio. But hey, with no regular NBA season to talk about…sometimes you just gotta find your own cool stuff. We're here to help. You're welcome!
Tip 'o the hat to EssentiallySports.com, who found an old video chat with Allan Iverson, Shaq and the man who forced and inspired O'Neal to level up his game. That's a darned big deal, considering Shaq's towering presence and almost superhuman strength on the court. Shaq-stats: 7-foot-1 and one of the strongest men ever to play the game. In his star-studded 19 season career, O'Neal accumulated so many awards and honors he probably had to add a wing on to his man-cave, just for the hardware. 
Shaq entered the league in 1992 and rapidly became the top-level dominant player in the game, especially around and under the boards. Then came 2002. Shaq and the rest of the league faced a new tower of power in the form of Chinese import Yao Ming. Ming would go on to be the tallest player (so far) to be inducted into the NBA Hall of Fame. That size and quickness was something Shaq had never seen before, and it made him alter his game. 
On the video, O'Neal talks about the first time he saw Ming on the court. Not surprisingly, he says his first reaction was "Who the fu** is this?" Tall and strong, Yao was able to do things against Shaq that no other player had been able to pull off.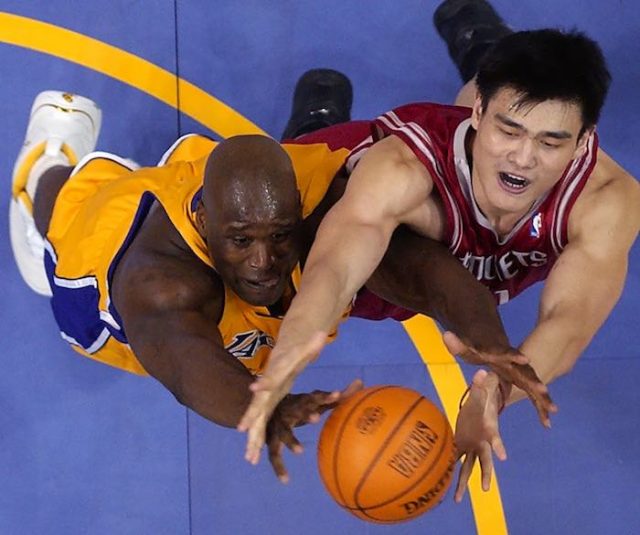 "He came in and I tried to hit him with a smooth finger-roll move; Block," Shaq said. "I tried to hit him with a fadeaway; Block. Next time I come up with a dunk; Block. First guy to block my shot three times in a row," Shaq said. 
How about the other way around? What did Yao think of the Big Aristotle? He was impressed, that's for sure, but he used – shall we say – some different language (and we don't mean his native tongue). Yao says he was impressed by Shaq's size and power: "He's like a rhino on the court to play against. A couple of years ago I went to Africa to see a real rhino and that's not much of a difference." 
For Yao Ming his career ended with a bit of disappointment over the fact that he never won an NBA Championship. Yet he can take a bit of comfort knowing the respect he got from another of the game's all-time greats. 
Want to check out the entire interview with Shaq, Iverson and Yao? Full video below!