No surprise here… in a recent interview, Shaq says he's still far from "over" the loss of his friend and former Los Angeles Laker teammate Kobe Bryant.
Still, there is some healing. In a talk with online magazine Hollywood Life and reporter Jenna Lemoncelli, O'Neal says he's been reflecting on his friendship and playing time together. "I miss young fella, that's what I used to call him. But, those memories will always be there, our names will always be attached to one another.
"Kobe was stolen from us too early."
Recently, Shaq was "gifted" with some rare photographic memories of him and Kobe. Famous NBA photographer Andy Bernstein sent Shaq some pictures from the celebration parade the Lakers had in Los Angeles after winning the 2000 Championship over the Indiana Pacers. 
Shaq: "I actually woke up that morning [the anniversary, June 19, 2020] and the great Andy Bernstein, who took a couple pictures of us at the parade [following the Lakers 2000 championship], sent me the photos. Those are good memories."
In their time together, Shaq and Kobe lead the Lakers to championship wins over those Pacers, along with the Philadelphia 76ers and New Jersey Nets in the team's famous three-pete. 
In another appearance this week, Shaq was a guest (via screen-sharing technology, of course) on the Tonight Show Starring Jimmy Fallon (video is posted below). More memories of the bond between him and Kobe and their playing time together.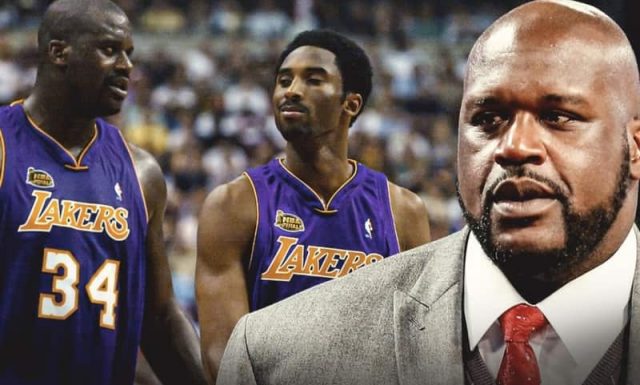 O'Neal told Fallon's audience the story of when he first met Kobe and Shaq teamed up in Los Angeles. Kobe reminded Shaq of an experience that happened years before, when Shaq was playing in Orlando for the Magic, early in his career and even before Kobe began playing professionally.  
"Actually, Kobe reminded me of this story," O'Neal admitted. "I was in Orlando, and him and his family came into the locker room and he asked Penny [Hardaway] for an autograph."
"I guess Penny kind of blew him off or whatever, I'm not sure — this is what Kobe was telling me. And then he said he came up to me, and I was real nice to him," Shaq said. He even signed an autograph for the young Kobe Bryant. 
Between the two of them – Bryant and O'Neal – the pair is certainly in the top 10 players of all time with the Lakers. Kobe finished his Lakers career with averages of 25.0 points, 5.2 rebounds and 4.7 assists, while Shaq put up 27.0 points and 11.8 boards per game with Los Angeles.
Los Angeles retired Kobe's No. 8 and No. 24 jersey last season. Shaq's No. 34 jersey is also hanging in the rafters at Staples Center.