Did you see it? Over the weekend, Shaq and football star Rob Gronkowski held a crazy online, virtual party Saturday that included musical performances and a series of challenges with the two superstars going head-to-head…all to make money for a couple of great charities. 
The organizations benefiting from the event were the Boys and Girls Club of America – O'Neal was playing for them…and Gronk playing to help the NAACP. As Shaq and Gronk played various games and challenges, the winner earned more for his particular charity. 
Along with Shaq, Gronk and the online viewers, food delivery company DoorDash also committed to donating – in partnership with the charity Feeding America – one meal in need for every viewer on the event's live stream (up to 1.25 million meals). No word yet on final numbers for the total number of viewers…stay tuned for that. 
Challenges? Some cool, some funny, for sure. Shaq and Gronk went head-to-head in a lip-sync battle, a game of basketball H-O-R-S-E, jousting, a sports obstacle course, a grilling challenge, a hot-wing eating contest and a sports-trivia showdown. Sports broadcaster Taylor Rooks of TNT Sports hosted and called the action.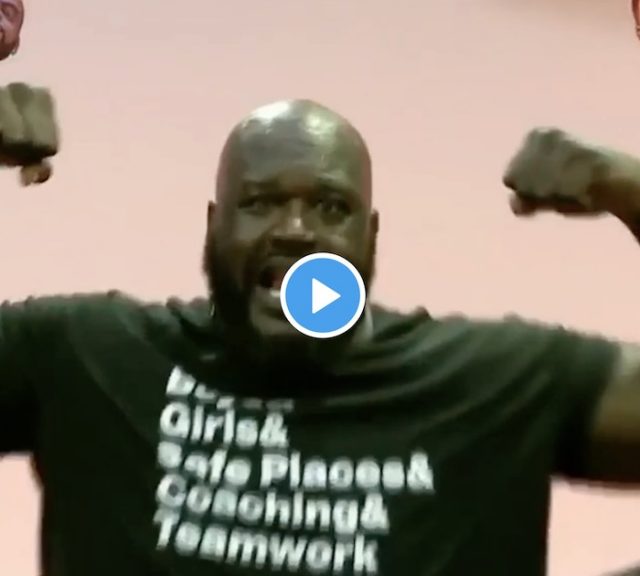 So yeah, we said there was a game of Horse – that old-schoolyard basketball challenge where each player tries to make shots from various parts of the court. In what had to be the top highlight of the night, viewers got to see former NBA superstar O'Neal rip the rim off the backboard for his giant-sized dunk. Not bad for a guy of 48 years! Click here to see the video for yourself. 
As for Gronkowski, he's coming back to his beloved National Football League. Gronk announced earlier this year that he would come out of retirement to play with his friend Tom Brady, with the Buccaneers in Tampa Bay. Gronk is a six-time Pro Bowler and three-time All-Pro tight end. He's only missed a year of the game, so if and when there is an NFL season this fall, we'll see if he's stayed in game-shape. He looked strong in the challenges with Shaq!