Shaq's been making the rounds on TV these days, talking about a variety of subjects. Just this week on the Today Show, O'Neal talked with Al Roker, and topics like police reform and the return of a Covid-shortened NBA season were at the top of the talking points.
O'Neal liked the idea of "community policing" that's getting a fresh hearing in many areas of the country. Shaq suggested that big-city police departments need to add more officers of color. Officers who grew up in the neighborhoods they'll patrol. "If you don't know what a person's been through, you can never have a conversation with them," Shaq said.
Roker mentioned that he has an 18 year-old son, and that he's had to talk to him about how to best interact with police, should that become necessary. Shaq said he's had similar talks, telling his children to "be respectful" and get home safely. He also said that if there was any kind of trouble, to bring it to him, so he could handle things.
In talking about the killing of George Floyd and the subsequent nationwide protests, Roker asked if Shaq felt there was real change happening in the country this time… And Shaq said he though there was honest change going on.
O'Neal said this time, the demand for change was being heard by those in power, and that now that enough people are demanding it, things may actually start to change for the better.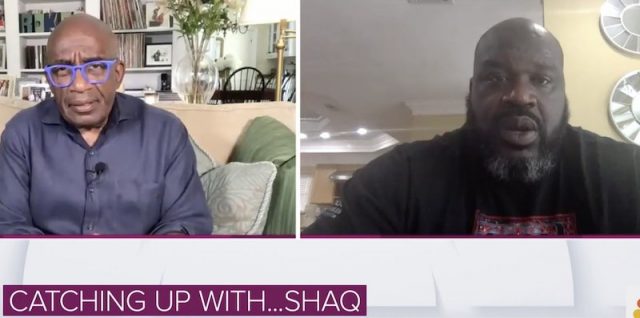 The other big topic of the morning: the scheduled re-start of the NBA season. As currently planned, all remaining games will be played in one location – Disney World in Orlando, Florida – to cut down the need for teams traveling, and also to limit the interaction of players and team staffs with outside individuals who may have spread Covid-19.
Another big part of the Disney World plan is that there will be no fans in attendance for these games. There had been talk that a limited number of family members – pre-screened and tested for Covid-19 – would be allowed to attend the games, but that idea no appears to have been scrapped.
Shaq says, "For me, it would be weird to play without fans." O'Neal says the fans and their energy drove him to great play. He also mentioned that with all the games being in one place, there's no home-court advantage for any team. Doesn't sound like a lot of fun for the teams. Hey, at least we'll get some TV action to watch.
One last big bit of news from Shaq's business side. We've talked a lot about the Big Man's involvement in business, and his position on the Board of Directors for Papa John's Pizza. Now the pizza chain is set to release a Shaq-inspired pizza, the Shaq-a-Roni.
Along with being extra-big and having an extra-large number of pepperoni sliced on it, the pizza is helping out several good causes. Proceeds from every Shaq-a-Roni sold will benefit the United Negro College Fund and the Boys and Girls Clubs of America.
We here at the ShaqFu Radio blog look to taste-test one of those big Shaq-a-Roni pizzas soon!