Sure, lots of teams (probably all) would have liked to have Shaquille O'Neal wearing their uniform. A few teams did, including Shaq's first, the Orlando Magic. Not surprisingly, a former teammate says he would have loved the chance to play another season with the Big Man. 
Orlando used the first pick in the 1992 draft to take O'Neal, and it took absolutely no time for Shaq to make his mark on the NBA. In four years with the Magic, Shaq became known as THE dominant player in the game. 
As a rookie, Shaq averaged 23.4 points, 13.9 rebounds per game. The biggest achievement for Shaq as a Magic player came when he led his team to the 1995 NBA Finals, where they were swept by the Houston Rockets. Still, that championship run did include a series win over Michael Jordan and the Chicago Bulls en route to the finals.
Shaq spent four years in Orlando. The other big Magic star at the time was Penny Hardaway. On a recent ESPN video chat with Richard Jefferson, Penny talked about the "what ifs" had Shaq stayed just one more year with the Magic. A ShaqFu Radio tip 'o the hat to EssentiallySports.com for reporting on this story. 
Jefferson asked Hardaway for his thought about what might have happened if Shaq had stayed. Penny surprised no one with his answer: "I think with the way the movement was going, we obviously would have gotten other free agents and I think we would have at least won one championship. I do really feel that."
"Even though I got injured, that happened freakishly after Shaq left. Having Shaq on board would have equaled one championship. Shaq is just greatness man. And at the time of his career, he was just unstoppable. With us staying together and growing together, we would have at least had one, I can say that for sure," Penny expressed.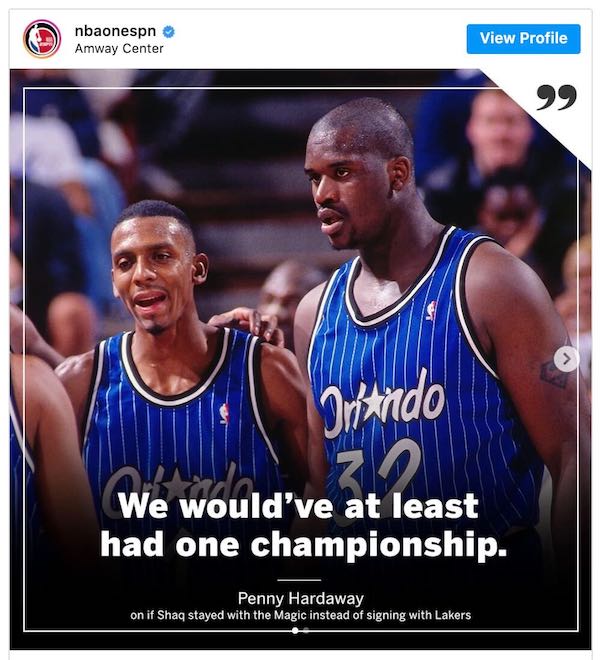 Unfortunately for Penny and each and every Magic fan, Shaq left the team and joined the Lakers as a free agent in 1996. In the next few years that led to the famous "three-peat," along with his on-again, off-again (and finally, on-again) relationship with Kobe Bryant.
Shaq was still very much in his prime in those days. He was named Finals MVP for each of the three championship campaigns. Could Shaq have won it all with Penny Hardaway in Orlando? Probably. Unfortunately (for Magic fans), the world will never know.