Shaq makes national news! Not hugely surprising, since the Big Man is in the news a lot. This time, it was for a very different reason: Shaq stopping to help a stranded motorist he spotted while driving in Florida this past Monday! 
This story was picked up by virtually every news outlet, but we'll offer a tip o' the hat to CNN.com this time around, and for the video link. Check it out below.
Seems O'Neal was driving along I-75 in Alachua county – near the town of Gainesville (home of the Florida Gators) when he apparently witnessed a minor accident. He pulled over to check on the driver of the car involved. 
Shaq waited with the driver as Florida Highway Patrol officers responded to the accident report. The Alachua County Sheriff shared footage of the incident on its Facebook page.
"Yesterday, Shaquille O'Neal was traveling through Alachua County on I-75 when he witnessed a crash. He stopped to check on the welfare of the driver and remained with her until law enforcement arrived," the sheriff's office said.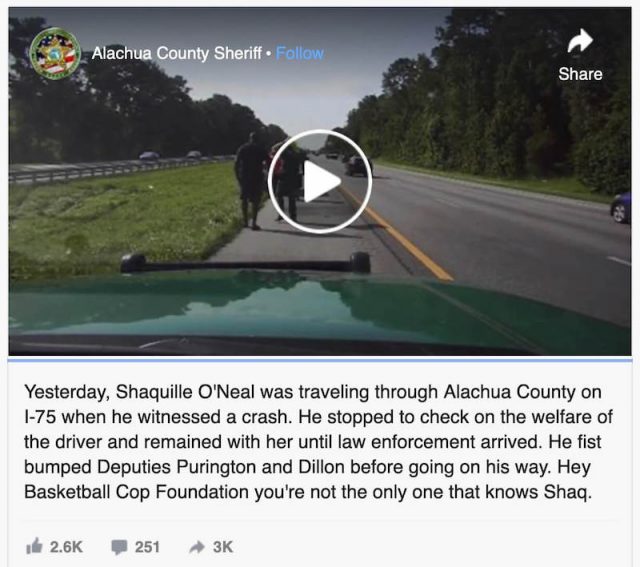 What a surprise that would have been for the officers showing up! No word if selfies were exchanged but the report from the sheriff's office does say "He fist bumped Deputies Purington and Dillon before going on his way. Hey Basketball Cop Foundation you're not the only one that knows Shaq." (Editor's Note: Basketball Cop is a program from local law enforcement to help local kids in the area get involved with sports.)
In the clip, O'Neal, 48, greets officers as they approach the driver on the left side of the road, while the motorist can be heard saying her tire blew out. "I appreciate you stopping to help," one of the officers tells O'Neal in the footage.
Shaq-historians know that the four-time NBA champ and 15-time NBA All-Star has a longtime connection in law enforcement. In 2005, he was sworn in as a reserve police officer in Miami, after having served in the same capacity in Los Angeles. In 2016, he was sworn in as a sheriff's deputy in Jonesboro, Georgia, and last year he was deputized by the Broward Sheriff's Office in Florida's Broward County.