Before the L.A. Lakers… Before the Shaq and Kobe show… there was Shaq in Orlando. And while it wasn't quite the fireworks show like it was out west, it was still super-entertaining NBA ball, featuring the Big Man and his ace sidekick, Penny Hardaway. 
A new story from the website BasketballNetwork.com talks about how Shaq and Penny had such great chemistry, and made for one of the most exciting one-two punch combinations in the game in the 1990's. 
Unlike out in L.A., there seemed to be little (or no) ego battles in Orlando. No arguing about who was the leader of the team, and no left-coast media to stoke the fires of trying to get players to snipe at each other. It was Shaq and Penny, and it was good. 
So good, that O'Neal himself has said that if he hadn't left for the Lakers, he's sure he and Hardaway would have delivered on an NBA Championship for the Magic. As BasketballNetwork points out, that Magic team did indeed make the Finals in 1995, and beat MJ and Phil Jackson along the route to those Finals. 
Shaq has had nothing but props and good things to say about his former teammate. O'Neal has spent quite a bit of personal capital letting others know how good Penny was. For his part, Shaq has gone as far as describing Hardaway as a combination of Wade, LeBron, and Kobe. High praise, indeed. 
For you Shaq-history buffs, you'll want to know that the relationship between the two began even before Penny joined the Magic, with Shaq already there. Set the WayBack machine to the early days of Shaq's movie career. That's when he saw this amazing kid from Memphis for the first time.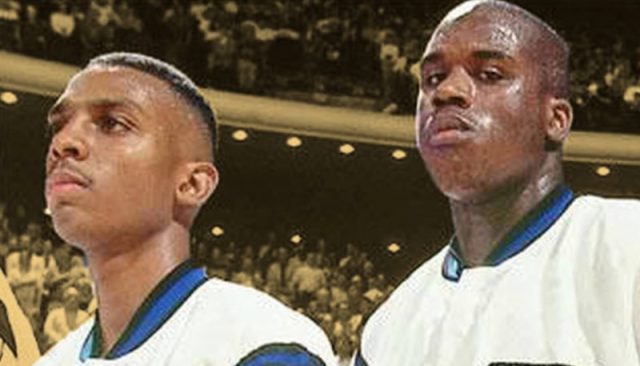 Shaq: "I went to LA to shoot a movie called Blue Chips. Every time I put my hand up, this guy is hitting me with perfect passes. So finally I ask my boy 'yo, who's that actor?' He said, 'that's Penny Hardaway' and I was like 'who's that?' He's like 'yo man, he plays for Memphis, and they're saying he's gonna be the number 3 pick."
So began Shaq's campaign to get the Magic to draft "that kid from Memphis." Still a young player himself, without a lot of pull in the team's front office, O'Neal still stuck his neck out. Seems Shaq liked the way young Hardaway played so much, he was willing to do something a little risky. 
Again, Shaq: "I go into the office and say 'hey if ya'll don't get me Penny Hardaway, when my deal is up, Imma talk about doing something else.' And they promised me they would. So now I'm at the house I'm watching the draft, and they draft Chris Webber. Now I'm pissed; I break TVs, I break furniture, I'm yelling, I'm screaming 'get my agent on the phone I don't wanna be here.' And then, after I calmed down, I see that they traded Chris Webb, and we got Penny."
Blackmail? Maybe…but it worked. Just like on the movie set, Shaq wanted "that kid from Memphis" firing those laser-beam passes to him on the NBA floor as well. Basically, he blackmailed the Magic into drafting him – that's how much he believed in him. 
It was quite the show, while it lasted. Unfortunately for Magic fans, the call of the (really) big money and all that Hollywood / show business / California thing lured Shaq to Los Angeles. Still, it was fun while it lasted.