When it comes to all the TV commercials and business dealings, we see Shaq involved with a lot of food products. From Papa John's Pizza to talking smack with Tony the Tiger of Frosted Flakes fame, the big man has a big appetite for food and related businesses. 
So no surprise – at least not for this reporter – that the former NBA superstar took some time out of his weekend to visit and help out at a food distribution center. This time, it was in Houston, Texas, at the NRG Center, the massive sports complex near downtown. 
Of course whenever O'Neal makes an entrance or arrival, it's a big deal. But the sight of the Big Man in a black Shaq-logo facemask was really interesting! (See pics and video link below.) 
That's not all… Shaq and his friends who showed up were taken by surprise when they learned he was being presented with an award for acts of kindness and humanitarian award by Houston Mayor Sylvester Turner.
Even with the award, Shaq remained humble. "I didn't know I was getting an award. I thought I was coming out here to help some people out. I don't do it for stuff like that," he said.
He went on to say that he just wants to help people who are in need. "If I knew I was getting an award, I probably wouldn't have come. I don't do it for that, but I am proud of the mayor and the city of Houston for what they've done out here. I've never seen a food bank this size and so organized," O'Neal added.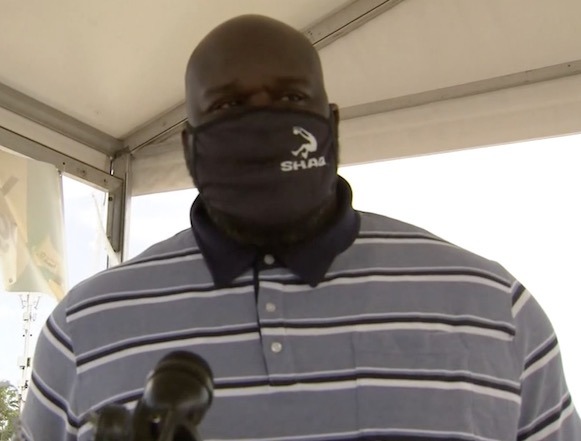 For the full video of the event, click here. 
Shaq said he would be taking some of the things he learned from his experience with the Houston food bank back to Orlando and Atlanta – where he has his homes – and share ideas for building and expanding food banks in those areas.
Talking to local reporters, Shaq expressed some opinions on the upcoming NBA season reboot. The season is set to start (again) at the end of July, with all games being played in Orlando, at the ESPN sports facilities on the Disney World campus. Shaq has said he doesn't' really like the idea of playing in what he calls a "bubble." Current plans call for all players, coaches and team staff to be housed at Disney World, and all games will be played with no fans… not even family or friends in attendance at the games. 
When asked, Shaq said he doesn't really have a favorite team at this point. He said everyone has a pretty even chance of making a move to the Finals. 
"What I mean by that is, they're playing in a bubble so no home court advantage. I want to wish them all well," O'Neal said. Stay tuned to ShaqFu Radio blog to stay up to date with the latest Shaq and NBA news!