There are already a few former NBA players who own at least a piece of an NBA team… Shaq is one of those. Now sports-news reports indicate the Minnesota Timberwolves are being put on the block, and another former player is looking to be the new owner. 
Thanks to the sports-news site Sportico for info on this story. Seems T-Wolves majority owner Glen Taylor has hired a consulting company to help find a buyer for the team, which he's owned since 1995.
The going rate for a mid-sized market professional sports team in The Association? The report says the starting asking price is a cool $1.2 billion. That might be a bargain – a recent report in business magazine Forbes put the value of the team at slightly more – about $1.4 billion. No matter what the final selling price turns out to be, Taylor will pocket a hefty profit. He bought the team for a reported $88 million fifteen years ago. 
News reports indicate several bids have already come in, but news website The Athletic says none of the current bids are "not currently being considered." That probably means they're not big enough to get the attention of team ownership. 
One of the bidders is a group led by former former Boston Celtics star and also legendary Timberwolves star, Kevin Garnett. Garnett confirmed his interest in buying the team via his Instagram story. (See the post below.)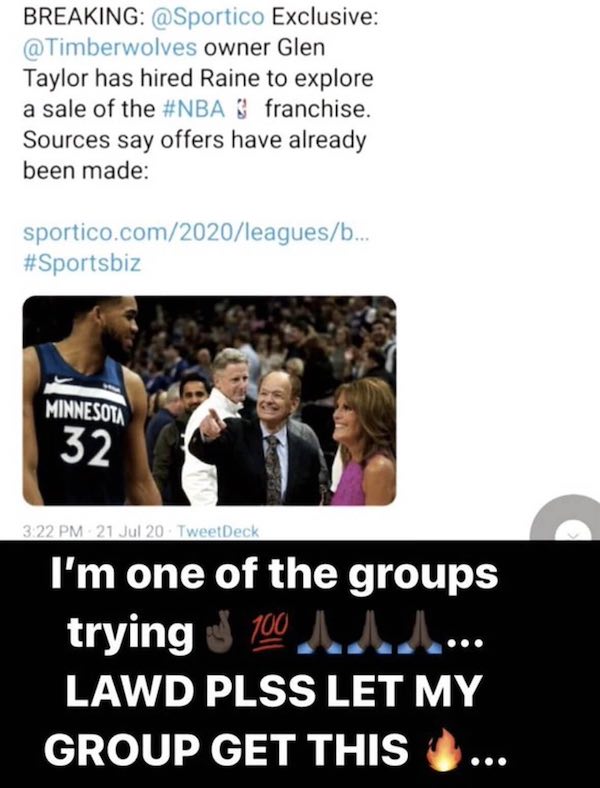 Does Garnett have a shot? Well… that's not such an easy question. When Garnett left the Timberwolves (as a player), he expressed an interest in joining the team in the front office, and perhaps (at the time) working his way up to an ownership position. Then coach Flip Saunders had worked out a contract deal with Garnett that included that advancement plan. Seems after Saunders passed away, that deal was taken off the table. 
Garnett, speaking earlier this year: "Glen and I had an understanding before Flip died, and when Flip died, that understanding went with Flip. For that, I won't forgive Glen. I won't forgive him for that. I thought he (Taylor) was a straight up person, straight up business man, and when Flip died, everything went with him."
Garnett has even had more – and more harsh – things to say about the current T-Wolves ownership, and the relationship has not been a good one as of late. The Timberwolves have not talked about possible plans to retire the soon-to-be Hall of Famer's number…. Even though Garnett is the first Timberwolves player to be elected to the Hall. His former team, the Boston Celtics, have already announced plans to retire Garnett's number during the 2020-21 season.
For his playing time, Garnett earned more than $334 million over the course of his career, and that's actually more than any other player in NBA history. (From on-court NBA-only pay.) Of course that doesn't count endorsements, of which he had many. 
If he were to succeed and his team got control of the Timberwolves, it's not yet clear how much of a percentage Garnett would control. As we mentioned, other players are also in ownership positions around the league. In Charlotte, Michael Jordan owns the Hornets, making him the only former player to hold a majority ownership stake. Grant Hill holds a minority stake in the Atlanta Hawks and Shaquille O'Neal owns a small stake in the Sacramento Kings.