Here on the pages of the ShaqFu Radio blog, we've talked about the Big Man's movie career several times. Quite the imposing character, Shaq has indeed been in several movies in his time. Some of them well-received, some not. Shaq apparently also had his eyes on way-bigger roles in mucho-bigger productions…details below.
Shaq's career on the court is well-documented. He's absolutely one of the all-time great players, no doubt. He entered the Association as the first-round draft pick in 1993 and had some stellar years in Orlando. But it was when he moved out west to Los Angeles when his career really blasted off. 
O'Neal was part of one of the biggest, most powerful dynasties in the game, as the Lakers would go on to win three consecutive NBA championships from 2000 to 2002. Not only that, Shaq was names Finals Series MVP for all three title campaigns. 
After his time in LA, Shaq would go on to play another powerful season in Miami with the Heat, where he and teammates won another title in 2006. After that, a few scattered years in Phoenix, Cleveland and Boston, as his career wound down. The Hall of Fame center finished his career averaging 23.7 points, 10.9 rebounds, and 2.3 blocks per game.
Still, O'Neal was never 100% focused on basketball. Well, maybe on the court he was, but there were off-court options as well. As the movie-business cliche says, "the camera loved him." Shaq obviously enjoyed being in front of the camera (how many TV commercials have you seen him on?)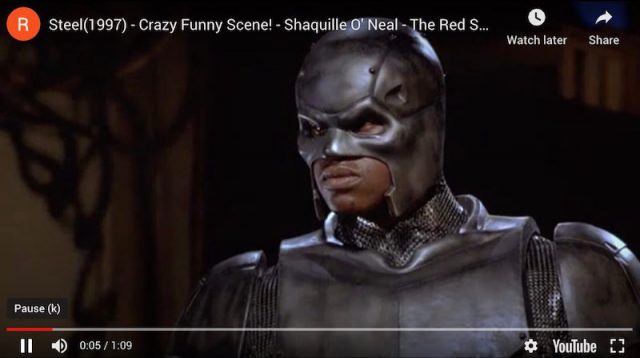 A few movies did come his way, including "Blue Chips" and "Kazaam." While neither of those movies became blockbusters, they got a good reception from Shaq fans. Over the years, Shaq would make appearances – both big and small – in several different movies, plus TV shows, music videos and as we've mentioned – TV commercials. 
Still, though all of it, Shaq had his eyes on something bigger. O'Neal was in Los Angeles as the first movie in the "X-Men" series was in production, and Shaq badly wanted to be a part of it. 
In an interview with show business publication The Observer, movie producer Ralph Winter talked about O'Neal's interest in X-Men. "Shaquille O'Neal showed up at the offices and wanted to play Forge, who wasn't in the movie," he said. 
Too bad! How cool would it have been to have Shaq in a major blockbuster! What a sight that would have been (in so many ways). Check the video of another Shaq appearance below…