One of the must-watch summer TV specials is back…and Shaq is back with it. Every summer, The Discovery Channel puts on "Shark Week." A collection of documentaries, late-night talk and other special programming, it's one of cable TV's most popular events.
Two years ago, Shaq took the plunge… getting into what he thought was a shark-proof case. Apparently one shark hadn't read the script for the show, and got into the case with the Big Man. Needless to say, it made for some very exciting television! Fun fact: No shark has ever gotten into a cage before… in the 30 year history of Shark Week programming! 
Now O'Neal is back with another Shark Week episode this summer, first airing on August 10th at 9 PM. This time, he's bringing some friends. 
The episode is called (wait for it…) "ShaqAttack." Joining Shaq are an interesting pair: YouTube trick-shot artists Dude Perfect and former NASA engineer Mark Rober. The plan for the show is to test the hunting techniques of various shark species and determine which one has the best predatory attack, all according to a Discovery Channel press release.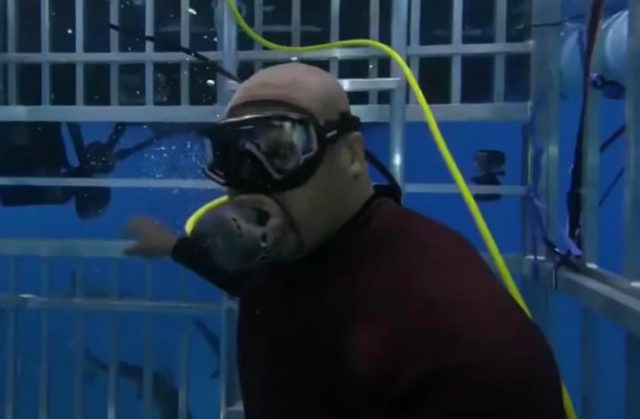 Shaq isn't the only celebrity making an appearance on this summer's string of shows. Movie star Will Smith appears in an episode titled "Off the Deep End." Apparently Smith, who has taken on aliens, robots, and even himself in a variety of action movies, has a fear of the open seas…not to mention the open jaws of one of nature's fiercest predators.
Also, legendary boxer and occasional movie star Mike Tyson is taking on a new challenge, and he picked the most unlikely training partner. Iron Mike will go head to head with some of the ocean's top apex predators, including the black tip reef shark. 
Discovery Channel put it this way: "With famed ring announcer Michael Buffer calling the shots, these two heavyweights will square off underwater, where Mike Tyson will try to score a TKO over the massive shark… all in the name of research. And don't worry, no sharks were harmed (or bitten) in the making of this episode."
Finally, rap star Snoop Dogg takes a look at why Great White Sharks are taking up residence along America's shores. Will this be the "sharkiest" summer in US history? In this special, Snoop will break down the craziest shark encounters caught on tape, marvel at the wild and unpredictable reactions, and meet with the leading experts who are trying to unlock the secrets behind this great white shark invasion.
Check out the video of Shaq's last Shark Week appearance below…