The NBA is back! No really… Real, live games, starting tonight (as of this writing). All played "in the bubble" of the ESPN Sports Complex at Disney World in Orlando, FL. Games tonight: New Orleans Pelicans vs. the Utah Jazz…then the first round of the Battle of LA (even if it's not in Los Angeles) with the Clippers vs. the Lakers. 
Both games are on the TNT network, so we're gonna get back to Shaq and the rest of the "Inside the NBA" crew. Can't wait! Tomorrow (Friday) the full-on season begins with game start-times beginning at 2:30 in the afternoon, all the way until 9:00 at night. A full day, to say the least. 
As Shaq gets back in his (oversize) chair at the TNT / Inside the NBA studio, a cool story from our friends at ClutchPoints.com with the Big Man, his son and Denver Nuggets up-and-coming star Bol Bol. 
Seems O'Neal had been doing a little bit of coaching and mentoring to Bol in his early years, with Shaq's son Shareef as well. Seems Coach Shaq had installed a curfew time for his young students… but both Bol and Shareef spent a little too much time partying one night with rapper Soulja Boy.. and on a night before a game!
Showing no favoritism, O'Neal suspended Bol AND Shareef for the game the following day. As ClutchPoints said in their story: "The fact that Shaq also suspended his own son for violating team rules does not only speak volumes of how the legendary big man holds no biases when it comes to coaching, but also, it made Bol realize how serious O'Neal was about setting them straight." The incident and experience probably went a long way to helping make Bol into a better player.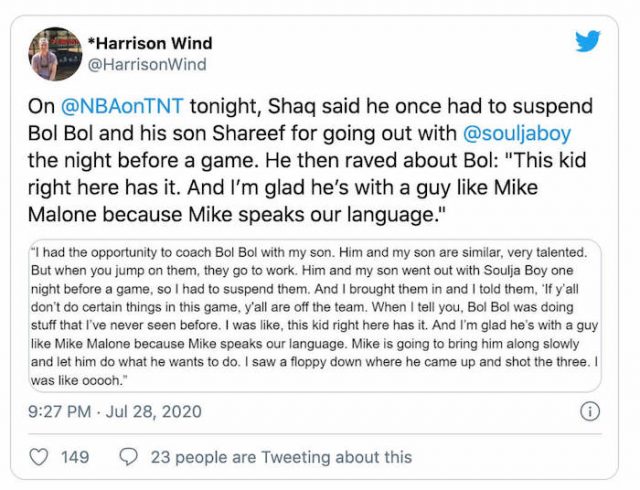 Getting ready for the new season, Shaq says Bol is in a very good place right now, playing for the Nuggets and head coach Michael Malone. The 20-year-old, who Denver selected at 44th overall in the 2019  NBA Draft, has yet to make his official debut with the Nuggets. 
Shaq says the young man hasn't won a spot in Denver's rotation… not yet, anyway. That may change when he gets a chance at a few minutes in the early games of this second half of the Covid-shortened season. 
Bol had a noteworthy performance for Denver on Monday in a 114-110 scrimmage loss to the Orlando Magic. The 7-foot-2 center logged 20 minutes off the bench, putting up 10 points, two 3-pointers, six rebounds, an assist, and a block. He's had other great showings in scrimmage play as well. 
Here's to a great finish to the 2019-2020 NBA season!