Remember back to the start of the lockdown due to the Covid-19 virus? If you were so inclined, you could drive down just about any street in your town, and you'd find it mostly deserted… empty. People were staying home. After all, it was a "lockdown," and most people took that very seriously.
Still, times have changed a bit. Even with the virus continuing to hit the world, some businesses are back open, and it looks a little more "normal" out there on city streets. We mention this here at ShaqFu Radio to introduce today's story.. How the Big Man was big-time late for his first-time-in-months appearance on live TV with the rest of the crew of TNT's "Inside the NBA" show.
The closing session of the NBA season did indeed get started last night, live from Orlando, Florida. And live from Atlanta, home of the TNT network, it was great to see the crew back at their new socially-distant desks for Inside the NBA.
Only problem: When the show started, just before the Pelicans-Jazz took the floor in Orlando, Shaq was nowhere to be found. Missing. A.W.O.L. It had been four long months of no basketball and no Inside the NBA… did he forget? Lose track of where to find the studio?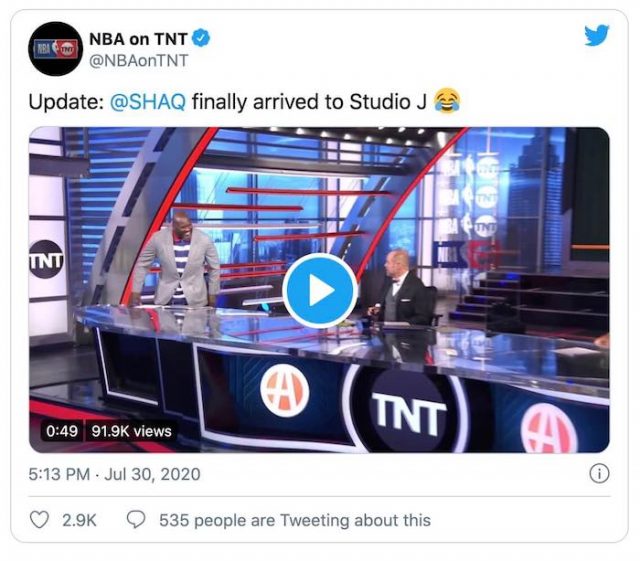 As we said, the new-look Studio J was waiting, all clean and shiny. If you watched, you saw the bigger, longer desk, complete with almost-invisible plexiglass walls between hosts O'Neal, Ernie Johnson, Kenny Smith and Charles Barkley. But when the show hit the air, Shaq was noticeably absent.
Main host Johnson told viewers that they were waiting on Shaq because he was stuck in traffic. And Barkley couldn't believe that Shaq actually showed up to work late… on that night of all nights! 
About 10 minutes into the broadcast, Shaq did make his way on set. And Barkley, often a nemesis for O'Neal, didn't let him get away with it unnoticed. 
Barkley to Shaq as he strolled onto the set live on camera: "Hey! Way to show up, big fella. Don't try to sneak in here." In his hurry to get to the set, Shaq may also have gone without a wardrobe change. The "Inside the NBA" crew also laughed at O'Neal's striped polo shirt, with Kenny Smith saying O'Neal looked like a sailor who realized he had a dinner event.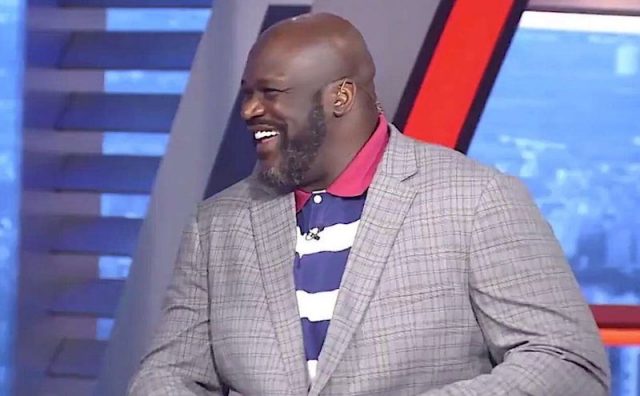 And sure, it's a bad look for Shaq to show up to work late. But let's be fair — it's a new broadcast slot, and Atlanta traffic is unpredictable. He's working out that new commute schedule.