To say that this NBA season has been a long, strange trip would be such an understatement! Games have been back in action in "the bubble" at Disney World in Orlando, Florida. No fans, but if you've watched (of course you've watched!) you've seen the NBA doing a great job of making the games as fan-real as possible: video screens of fans on the sidelines, authentic game sounds and more. This reporter definitely gives it a thumbs-up.
How about the on-court action itself? Again, high marks to the teams for coming back in good shape and ready to play. There have already been several super-exciting games, and the superstars are shining again. 
With that in mind, it may be time to start thinking about MVP choices. TNT "Inside the NBA" commentator and former Lakers legend Shaquille O'Neal has two favorites, Giannis Antetokounmpo of the Milwaukee Bucks, and LeBron James from his former team in LA. When it comes to the "why" of his pick, Shaq goes back to his own history to help him make his decision. 
In Shaq's playing years, he lost out to Steve Nash in MVP balloting. Not just once, but twice. O'Neal says his story was a perfect example of what will probably happen this year, too. 
Shaq: "Based on the new criteria that somebody somehow made up; because there was a guy that beat me (Nash) out twice. And they said he beat me out because his record was better than mine."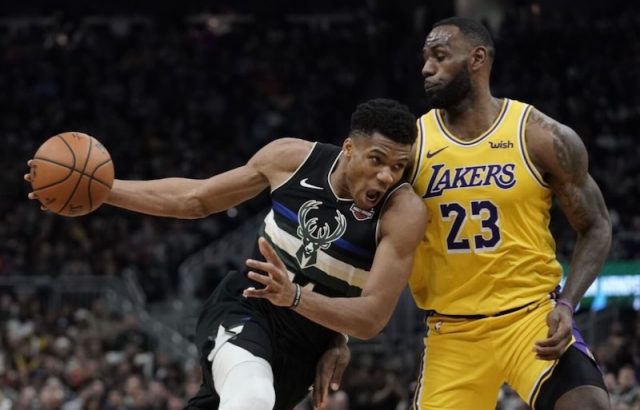 Is Shaq comparing himself to LeBron? If not in playing style, at least in the way he's won MVP awards, yes. Shaq has had nothing but good things to say about Giannis. He's had high praise for the "Greek Freak,"  but he's also made it clear that LeBron James remains the best player on earth, no matter what.
Still, Shaq thinks MVP voting leans too much on the players team record. "So based on that b***s*** criteria that y'all made up, Giannis is 53-12. And LeBron is the best player in the world, he's 49-14. So based on this new criteria, you gotta give it to Giannis."
Antetokounmpo has indeed been amazing for the Bucks this season, no matter how the season has been sliced and diced. The Bucks (have you seen those "Cream City" jerseys?) have garnered the best record in the league so far this year. As for Giannis himself, he's played "only" about 31 minutes per game, but obviously that's been enough. 
As for both Giannis and LeBron? Both have said it's too early to talk about MVP. They're obviously focused on the upcoming finals in October – better late than never – and winning games today. 
By the way, Shaq has more good words for Giannis and the way he decided to pursue the Championship from Milwaukee, rather than joining one of the other mega-teams in the league. 
"What I respect about Giannis is he's saying 'Okay Bron I respect you and all that, but I don't want to join those super teams I want to do it by myself'… The kid plays hard, he's very exciting to watch and he's doing it the right way. I'm giving him super respect for that, so he gets my knot." (Vote?)
It looks like Giannis is set to win back-to-back MVP awards and nothing can stop him. However, that's not his biggest ambition this season.
Check the video below for D-Wade's MVP pick.