Poor Steph Curry… He's out of the running for the NBA finals. Completely out of the playoff picture, in fact. The Warriors didn't have enough wins to qualify to make it into "the bubble" in Orlando.
Still, that hasn't stopped him – or his imagination – from in the mix. Just this week, Curry posted a video on Instagram showing him waking up in bed, at home. Caption under the video: "Got me… waking up, thinking I'm in Orlando." For the video, click here.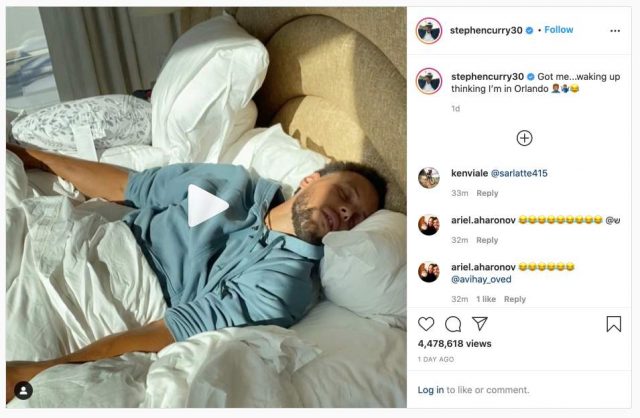 Nope! California is definitely not Orlando. Sure, Curry was kidding, but it sure got the attention of friends and even arch-enemies from all over the media and the NBA. 
Shaq was quick to jump on the post, commenting "You all right, cuz…" One of Curry's teammates, Eric Paschall, tweeted back "you was rocked." Friends and rivals including Carmelo Anthony and LeBron James chimed in with comments.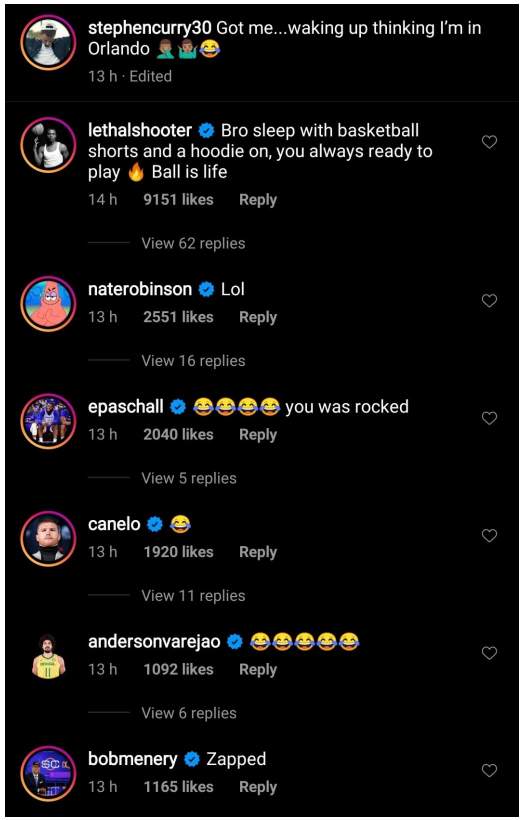 The Warriors, like we said, had a very (this is putting it gently) "challenging" season, what little of it the team actually played. Injuries hit the team early and hard. Klay Thompson missed the entire season and Steph Curry broke his hand early in the campaign. D'Angelo Russell and Draymond Green played well, but were unable to get the team out of the basement of the Western Conference. That meant no trip to Orlando, season over… full stop. 
Still the team looks dangerous for the future. They have great odds for the number one pick in the draft and will have Clay and Steph back at full health and full strength. There's also a lot of talk going on around the league as to whether or not the Greek Freak Giannis Antetokounmpo will make himself a free agent and will be available to other teams in 2021.