Interesting choice…NBA legend Shaquille O'Neal spoke in a recent interview about role models and people he looks up to (if that's even possible!). Not just from basketball, but all walks of life. Included on that list of favorites is seven-time Grand Slam singles tennis champion Venus Williams. Shaq says Venus is one of his favorite athletes, and the Williams sisters are role models.
Those two – Shaquille O'Neal and Venus Williams – were part of an online conversation with Liam Mcgowan for the American business software company SalesForce, headquartered in San Francisco, California.
Shaq: "Venus has always been one of my favorite athletes. You know a lady, a woman, a business person you know my daughters could look up to. When I was coming up I looked to the athletes and certain people in the neighborhoods to kind of guide me but once I stopped going to the people in the neighborhood and started focusing on athletes it helped me develop… so Venus has always been someone, she is tall, she is beautiful, my daughters are tall and beautiful so whenever I have problems I always say look at Venus and Serena."
Needless to say, Venus was thrilled and delighted to hear those words from the Big Man. She had great things to say about him as well. 
Venus: "That's so kind. Just the way he revolutionized the game and the only word in everybody's mouth for like 20 years was Shaq. He brings so much joy it's so much fun the whole time."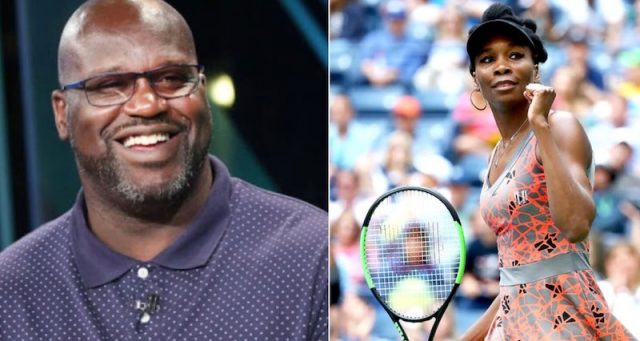 O'Neal has been staying busy in his years after retirement from the NBA. Now 48 years old, Shaq works as a sports analyst on the popular "Inside the NBA" show on the TNT network, and he has numerous business interests. (Lots of Shaq's business career is covered on other ShaqFu Radio posts… check out the blog for more.)
As for Venus Williams, she's as big a legend on the tennis court as Shaq was on the hardwood. Now 40 years old, Venus is a former World Number 1 rated player and is considered one of the greatest players of all time in women's tennis. Besides her seven Grand Slam singles titles, she has also won 14 Grand Slam Women's doubles titles, all with sister Serena.
In addition, she's won four Olympic gold medals, one in singles and three in women's doubles, along with a silver medal in mixed doubles. She has the distinction of being the only tennis player to have won a medal at four Olympic Games. And she's not done yet! Venus says plans to compete at the Western & Southern Masters and the US Open in New York later this month.