At a time when Shaq's best playing years were in the rear view mirror, his skills at pranking fellow teammates were still razor-sharp. Current Miami Heat veteran point guard Goran Dragic recently had the chance to talk about his time together with Shaq, back during both players' time with the Phoenix Suns. It was during Dragic's rookie season back in 2008-09.
On "The Woj Pod" with ESPN's Adrian Wojnarowski (and reported by MSN Sports), Dragic talked about how O'Neal made him carry around a musical keyboard as a rookie all season as part of his hazing treatment. A what?!? 
Later on, Dragic said he asked O'Neal if he played the keyboard, or used it in any way. That's when Shaq said no… And besides, the keyboard was busted anyway. Along with the broken keyboard, it was obviously a way to "break in" one of the rookies on the Suns' roster.  
As the Shaq-tribe here on ShaqFu Radio knows, O'Neal is arguably one of the most dominant players in NBA history. Along with that, he gets high marks for his overall fun personality (still to this day, or course). Dragic' experience seems to be just another piece of the puzzle.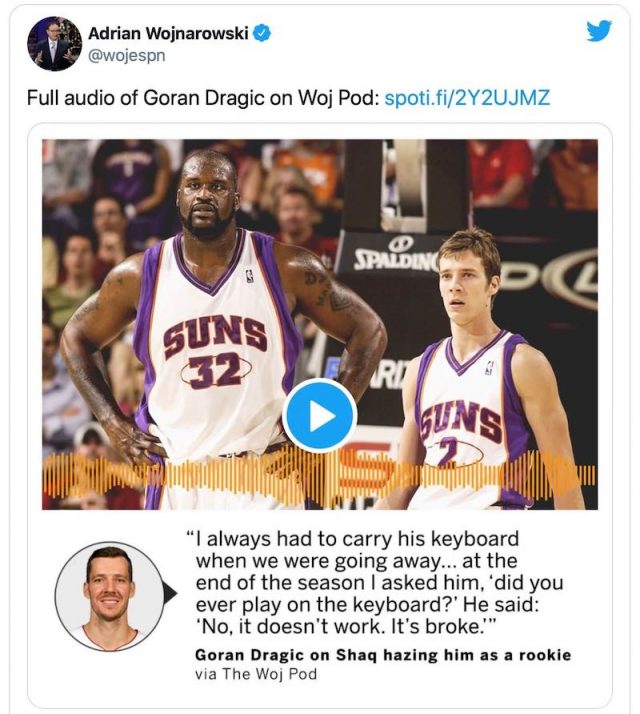 Interesting that Dragic is now with the Miami Heat, a team Shaq played for and (along with stars like Dwayne Wade) and won an NBA Championship (2006 season against the Dallas Mavericks). 
Now Dragic Iis making a name for himself along South Beach. He joined the team in 2015. He's averaging 16.2 points, 3.2 rebounds and 5.1 assists for the Heat in 2019-20 while shooting 44.1 percent from the field, 36.7 percent from beyond the arc and 77.6 percent from the free throw line.
When it comes to Shaq and his pranks, we'd love to get a real behind-the-scenes look at what goes on when the cameras are off at the TNT network during the "Inside The NBA" broadcasts. Of course these days the TNT team is separated by a bigger desk and even plexiglass sheeting between the announcers, but we're sure Shaq still finds a way to make some fun happen. 
Speaking of Inside the NBA and everything basketball, this week marks the beginning of the playoffs – from inside the NBA "bubble" in Orlando, Florida. As for Dragic' Heat, they start the post-season campaign against the Indiana Pacers. Stay tuned to ShaqFu Radio for all the latest Shaq news (of course!) and the interesting and offbeat "bubble news" as well.