Black Mamba forever: Shaquille O'Neal, LeBron James and more celebrate Kobe Bryant's 42nd birthday
In case you missed it, Sunday was the late NBA legend Kobe Bryant's 42nd birthday. Shaquille O'Neal, LeBron James, Dwayne Wade and Allen Iverson were among the many fellow NBA players and entertainers who took some time to remember the Black Mamba on his special day.
If you watched any of the NBA action from the Bubble in Orlando Sunday, you may have seen some players wearing an armband in Lakers purple to remember Kobe. 
Shaq, who played alongside Bryant in Los Angeles in the late 90s, posted a compilation video featuring some of the moments they shared between each other on the basketball court. Though they had their moments, Shaq and Kobe shared an unbreakable bond that went beyond the sport of basketball.
"Happy birthday Kobe," Shaq wrote. "They couldn't stop the REIGN." The video appeared on Instagram. Check it out here: https://www.instagram.com/tv/CEPg2e1Hx50/?utm_source=ig_embed
Current Lakers superstar LeBron James also had a video tribute for Kobe… a throwback clip from their time together on Team USA. In the clip, James is seen grabbing a slice of cake off a table. He then loudly proclaims to a room full of people that they're about to sing "Happy Birthday" to the iconic shooting guard.
It was definitely a few years ago. On the video, LeBron says, "Alright, like I said, today is Kobe Bryant's 30th birthday and we're about to sing him 'Happy Birthday."
It's been a long seven months: Bryant lost his life on Jan. 26 in the helicopter crash in Calabasas, California along with his 13-year-old daughter Gianna, and seven others.
Vanessa Bryant also celebrated her late husband's birthday today with a heartbreaking post.
"Natalia, Gianna, Bianka, Capri and I wish you a happy birthday my love," Vanessa captioned her post. "I love you for now, forever and for always."
Natalia, 17, also made a separate post of her own in his memory.
"Happy Birthday Dad I miss your smile, laugh and big bear hugs," she captioned. "Happy Birthday to the best movie buddy I could have ever asked for."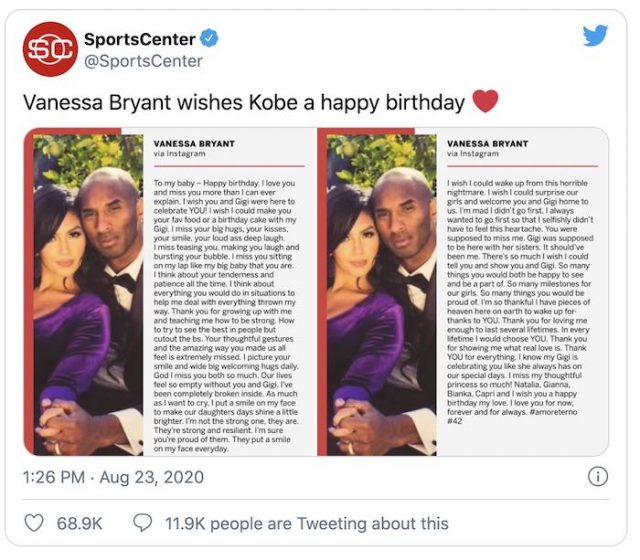 Other NBA superstars also offered their remembrances of the Lakers legend. Here's one from Bill Russell: