As of this writing, the Houston Rockets and Oklahoma City Thunder are heading for an exciting Game Seven in their Western Conference Quarterfinal matchup tonight from "The Bubble" in Orlando. Congrats, winner. You get LeBron and the Los Angeles Lakers.
With tonight's game – and future NBA tournament teams in the windshield, Shaquille O'Neal and Charles Barkely are – as always – ready with opinions and breakdowns. Most analysts are picking the Rockets in tonight's game against OKC, but are also making Houston an incoming underdog against the Lakers. 
Those Lakers haven't exactly burned the house down in the final games of the bubble-enclosed season and the playoffs that followed. They looked sluggish in the seeding games in the bubble, and finished the "regular" season (if we can call it that) with just a 3-5 record. Still, they managed to handle the Portland Trail Blazers without too much trouble… Not even Barkley's call for a SWEEP after Portland won game one of that series. (Check previous ShaqFu Radio blog posts for lots of funny moments on that topic.) 
Injuries didn't help the Blazers. Bubble MVP Damian Lillard suffered a dislocated finger and a lateral knee sprain, CJ McCollum suffered a back injury prior to the playoffs. Zach Collins missed the entire series with season-ending ankle surgery.
Hopefully for the Rockets, they're not looking past the Thunder to any possible series with the Lakers. But that hasn't stopped the TV analysts from doing it! Shaq has some strong thoughts on a Lakers / Rockets series. The Big Man says with LA's size today, they shouldn't have big problems with the Rockets (see all those "bigs" in there?) 
"I would like to see them play Houston. If they play Houston they should be able to dominate them because Houston plays small ball. I don't want to see Anthony Davis shooting any jumpers if they play against Houston."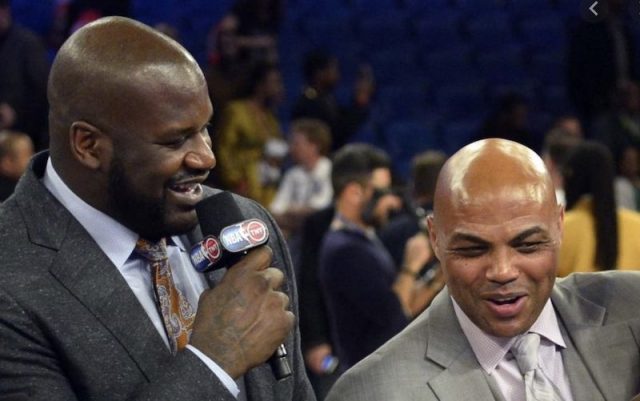 After making a name for himself in Philadelphia and later in Phoenix, Charles Barkley finished up in Houston. Sir Charles agrees with Shaq…that the Lakers should be able to handle Houston, but for different reasons. 
"To see Russell Westbrook and James Harden against the Lakers would be very entertaining. To me, that would be the ultimate test of small ball. That would be the ultimate test. Like okay, we're going to play with all these little dudes and we're going to shoot a bunch of threes, y'all can't shoot threes. That, to me, would be a great thing to see. I love watching Russ play and [James Harden] is the best one-on-one basketball player I have ever seen. No disrespect to the great Michael Jordan or Kobe Bryant. I'm just telling you."
Barkley has been one of the biggest critics of small ball and has repeatedly stated that the Rockets simply can't win a championship with a strategy that sacrifices size. For Barkley, a victory over the Lakers would change his mind entirely, as they have three players who are all 6-foot-10 or taller in Anthony Davis, Dwight Howard, and JaVale McGee.
Still, the Rockets must win tonight to get that shot at the Lakers… Stay tuned!