Have you seen the picture making the rounds on social media? Taken by Shaquile O'Neal's son Shareef – it's a simple snap of the clouds against a bright blue sky. Yet to Shareef – and lots of others who saw it "live" and online – it's a blessing and reminder of our missing friend Kobe Bryant.
Check out the picture below. Shareef grabbed his phone and took the image of the sky and that one particular cloud – a cloud that looked for all the world like the number 8 Kobe wore on his Los Angeles Lakers uni for the first portion of his career at Staples.
Along with the post, Shareef wrote: "I thought I should share what I saw in the sky today, #8. It might be a stretch to some but I see it clear as ever #8." Not really a stretch at all! The pic is – pardon the pun – clear as day and the number jumps out at the viewer. 
Shareef wasn't the only one who took the sign of Kobe at "face value." Fans and followers on Instagram and Twitter passed it along to others. On Twitter, the pic was retweeted more than 20,000 times.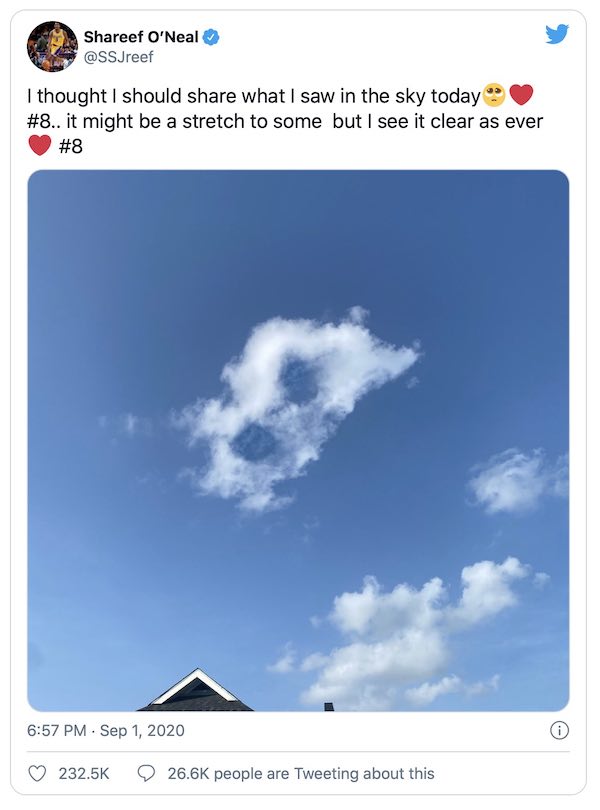 One follower even added another picture with a little retouching for emphasis, pointing out what appeared to be a number two in another cloud formation nearby. Bryant's 13-year-old daughter Gianna who wore No. 2 on her school jersey.
Kobe and Gianna, better known as "Gigi," died alongside her father in the January helicopter crash that claimed their lives and six others. 
This past August 23rd marked what would have been Bryant's 42nd birthday, and on that day, his jerseys were displayed in social media posts, draped courtside at games and in many other places both online and in real life. 
One Number 8 jersey even made it on the court. WNBA player Diana Taurasi wore Kobe's name and number on her Phoenix Mercury jersey as the team played in the women's league "wubble" in Bradenton, Florida. Taurasi and the Mercury won their game that night against the Washington Mystics.