Looking to upgrade your living situation… a LOT? Grab the checkbook and start packing, because Shaq's super-cool, super-big (Shaq-sized, of course!) mega-mansion inside a gated community near Orlando, Florida is back on the market.
The question on everyone's mind: how much? Well, there's good news and bad news for you potential buyers out there. The good news is that the price has been cut by about ten MILLION dollars. The bad news? It's still got a Shaq-sized price tag of $19.5 million. Yes, it has been about $28 million when first put on the market just a few short years ago. Changing real estate market? Maybe…
Near Orlando, the mansion is in the prestigious Isleworth Golf and Country Club, along the shores of Lake Butler, southwest of the city and near all the big attractions like Disney World and Universal Studios. Of course with a home like this, I don't know why anyone would ever even think of leaving for the "outside world." 
Total size of the property is about four acres (we can only guess at what must be an equally giant-sized annual property tax bill!) and has its own pier and boat dock on the lake.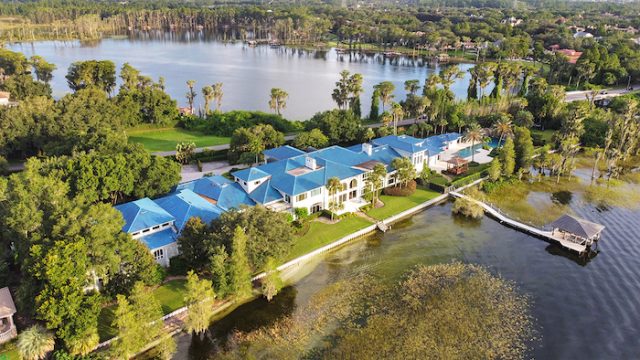 Of course the property itself is just the start of the story for this amazing home. O'Neal originally bought the home for about $4 million back in 1993. At the time, the size was listed at about 23,000 square feet. Shaq added on to that, bringing the size today up to a whopping 31,000 square feet. See the video at the bottom of this post for an inside look at the home. 
The usual stats: 12 bedrooms, 11 bathrooms plus four powder rooms. Now the fun stuff: a full-sized cigar bar with walk-in humidor, a soundproofed theater / media room, and an Egyptian-themed room with a triangular saltwater fish tank at its center. Of course there's one room filled with all of Shaq's awards and other history; jerseys, trophies, etc. 
Of COURSE there's a full-sized basketball court – 6,000 square feet – we're guessing that's something that Shaq added after he first bought the place. In addition, there's garage parking for 17 or more cars in what looks like a fancy new-car dealer showroom. 
One of the several family rooms features the front section of a big rig truck with the word "Diesel," one of the basketballer's many nicknames, painted across the bumper. The master bedroom is more than a thousand square feet all by itself, and features a huge rounded bed with a giant-sized superman logo.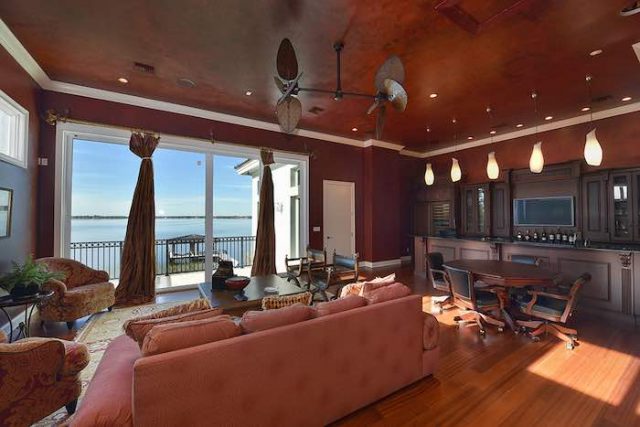 Outside, there's a 15-foot-deep and 95-foot-long swimming pool along with a tiki cabana, an outdoor kitchen — and 700 feet of lake frontage with a private, two-slip boat dock.
Should he sell this particular property, Shaq certainly won't be homeless. He also owns a smaller (by O'Neal standards) home in the Los Angeles / Bell Canyon area, and he's got a nice 15-acre semi-rural suburban estate about 30 miles outside of downtown Atlanta that he scooped up in 2017 for $1.15 million. That's near his "day job" with the TNT network. The LA property is "only" about 5,200 square feet and is valued at about $1.8 million. 
So… Looking for new digs? Get packing…and see you in Orlando!