As the NBA playoffs continue from inside "The Bubble" in Orlando, Florida, some teams are already announcing changes for next season. The Brooklyn Nets have named former Phoenix Suns star Steve Nash as the team's new head coach. 
That led to a discussion and an interview with Nash on TNT's "Inside the NBA" program recently…and led to a few interesting and funny moments between Shaq and the newly-minted coach. On a video call with Nash, Shaq asked if he could see one of the MVP trophies that Nash had won… an award some felt (including Shaq, of course) O'Neal should have won, and not the Suns superstar. 
Just before letting Nash off the call, Shaq asked Nash, "If you're at your house, can you show me one of those MVP trophies that you stole from me?" That got a good chuckle from the rest of the "Inside" crew. But Nash would have none of it, with a little smile, he came right back, "Man, if you can't make a free throw down the stretch, it's hard to be MVP." A not-so-subtle jab at O'Neal's well-documented troubles from the free throw stripe. 
NBA history buffs will remember that it was Nash who won back-to-back MVP awards in 2005 and 2006. Under Suns coach (at that time) Mike D'Antoni's system, Nash was the floor leader of the high-octane and up-tempo Suns squad. The supersonic style of play took the league by storm, and is still in evidence today with the Houston Rockets, where D'Antoni is currently the head man.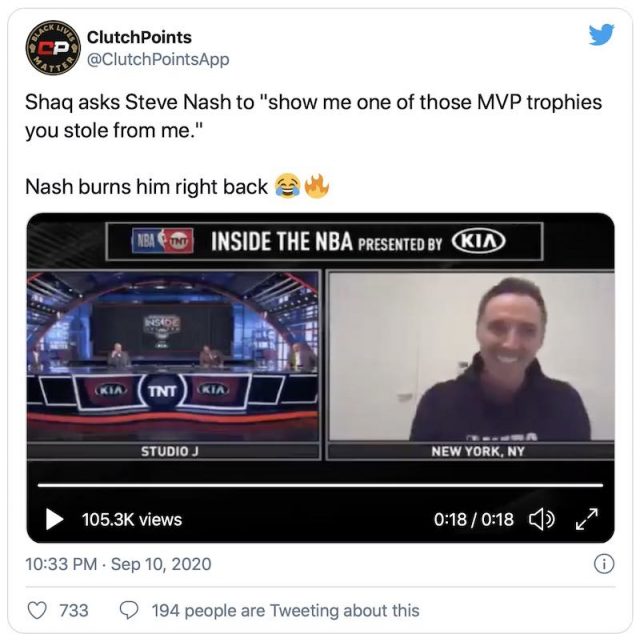 Nash was recognized as one of the best guards in history. As for Shaq, his stats are totally legendary as well, even though he came in second to Nash in MVP voting in 2005. Final vote tally: Nash 1,066 voting points – O'Neal 1,032. At the time, O'Neal was in his first season with the Miami Heat, a move that came after the well-publicized falling out with Kobe Bryant and the Los Angeles Lakers. 
Even though he missed out on the MVP trophy, O'Neal still did OK for himself and his Heat teammates. With Shaq and Dwayne Wade, the Heat went on to win their own NBA Championship. 
So… Nash keeps the trophies…Shaq seems to be doing pretty well for himself, too. He recently signed a new contract extension with the TNT network that will keep him on the set of Inside the NBA – and appearing on other shows owned by sister networks – for years to come.