If you've been watching the TNT Inside The NBA program during these NBA playoffs coming to you from inside "the bubble," then you know there's been quite a bit of joking back-and-forth between the crew about their predictions over these playoff games.
One member of the Inside crew – Charles Barkley – has really been taking the hits. Seems most of the games he's predicted have gone exactly the other direction. In fact plenty of viewers commenting on social media have said they just wait for Sir Charles to make his call, and then bet the other side. 
Barkley may be in for more ribbing tonight. Not only Sir Charles in this case, but the rest of the Inside The NBA crew, who all favored the Los Angeles Clippers in their  playoffs playoff series against the Denver Nuggets.
Apparently the Nuggets never got the memo. Last night (as this story is written) the Nuggets successfully erased a 3 to 1 lead by the LA clippers in their series and won a huge upset in game seven Tuesday night. By the way, that sets up the western series finals against the Los Angeles Lakers with Lebron James and Anthony Davis. 
Denver Nuggets superstar Jamal Murray had great things to say about the win after it happened, and quite a trashing of the people who bet against him and his team. Of course that included Barkley, Shaq and everyone else who predicted the Nuggets would fall to the Clippers.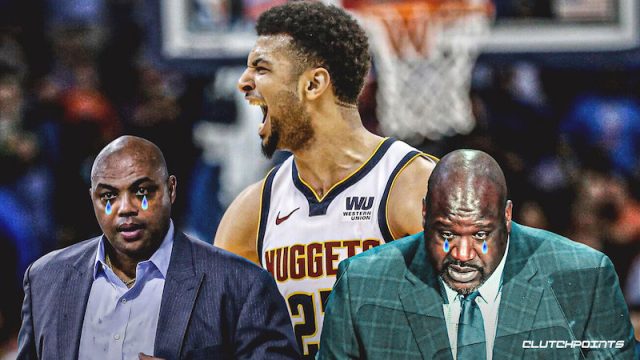 Now, to be fair, there weren't many analysts in the basketball world that thought the Nuggets could take out the mighty LA clippers in this series. That prediction seemed even more solid when the Clippers racked up a seemingly insurmountable 3 to 1 series lead.
In his post-game interview with Michael Scotto of USA Today, Murray pulled no punches: "You got Shaq, you got Charles (Barkley), you got Zach Lowe, Stephen A (Smith). All ya'll better start giving this team some damn respect because we put in the work and we've got a resilient team. Ya'll can start changing the narrative and looking at us in a better light."
Admittedly, Denver doesn't get a lot of media coverage love. They played a mostly under-the-radar series (and won) against the Utah Jazz earlier in the playoffs. Fluke? Apparently not…since they repeated the winning in the series against the highly-ranked Clippers. 
The work doesn't get any easier for the Nuggets. In fact, it gets a lot harder. Next up, the Western Conference Finals against the top-seeded Los Angeles Lakers in the Western Conference Finals. At this point, however, it would be foolish to count Denver out.