Just last week we had a story here on the ShaqFu Radio blog all about the big man's really big house that's back on the market in the Orlando area. The Shaq-sized mansion in the super-exclusive enclave of Isleworth comes with a full-sized indoor basketball court, video theater room and lots more… including a $19 million dollar price tag.
Even before selling the Orlando property, Shaq is signing on the dotted line to buy a new home, this one in Las Vegas. Two years ago, Shaq opened his "Big Chicken" restaurant on the "Strip." Apparently, Shaq wants to be close to one of his business interests. 
Of course, if Shaq owned a home in all the cities where he does business, he'd be quite the real estate mogul. The Big Man owns several Papa John's Pizza locations in the Atlanta area, and he's a major TV spokesman for Carnival Cruise Lines, which is based in Miami. Who knows? Maybe he's shopping in those areas, too. 
As we said, the lakeside mansion in the Orlando area has an asking price of almost $20 million dollars. The Vegas property is very nice (see pictures below) but has a (comparatively) tiny price. County records indicate O'Neal paid "only" $765,000 for the new digs.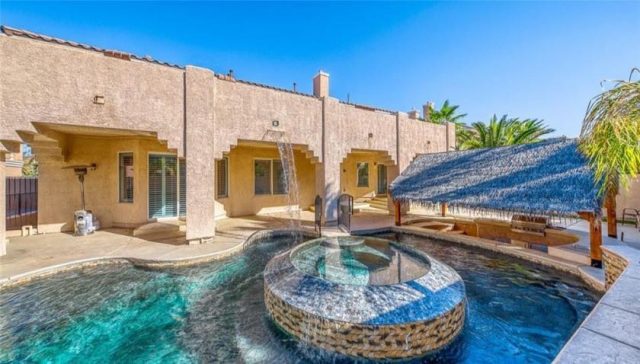 The Vegas-area home covers about 5,400 square feet of living space. The Orlando home, by comparison, is 31,000-square-feet. (Not to mention the 95-foot pool, boat ramp on the backyard lake and more.) The Nevada home has five bedrooms and four bathrooms on two stories.
It's just a few miles from the famed Strip in a guard-gated community. While it's nowhere near the size of the Florida home, it should still fit Shaq nicely. It's got a massive double-height great room with inlaid floors and a fireplace. A second-story loft overlooks the space from above.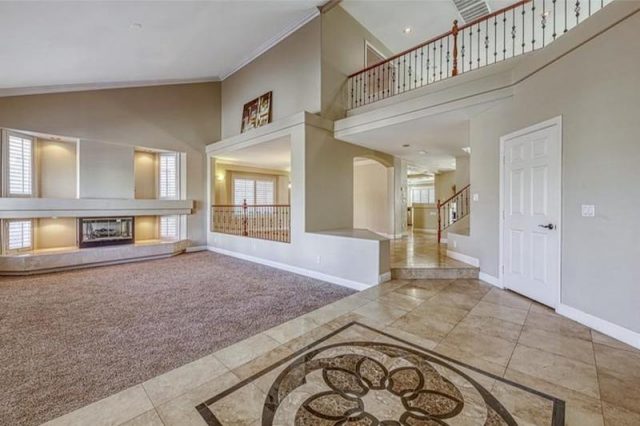 A granite kitchen and two-story family room fill out the rest of the main level. Upstairs, the primary suite features a two-sided fireplace separating the bedroom and bathroom.
A deck and covered patio line the back of the home, which expands to an entertainer's backyard with a tiki-style cabana, a bridge that accesses a spa and a fountain-fed pool with swim-up bar.
Congrats on the new Vegas digs! Here at the offices of ShaqFu Radio, we're patiently waiting for the invite to the housewarming party!