Any NBA fan knows the story of league domination that was on display during the Shaq / Kobe years for the Los Angeles Lakers. At the peak, those Lakers were no doubt one of the strongest teams ever to take the floor. Yet in the end, it was the strong mix of personalities that spelled the end of the dynasty. Now, a new book has some great stories from that time. 
Sports reporter and writer Jeff Pearlman has penned books about basketball and football. His latest is "Three-Ring Circus: Kobe, Shaq, Phil, and the Crazy Years of the Lakers Dynasty." It just dropped at stores and online outlets this week, and ESPN and other sources have gotten their hands on a few tasty excerpts. 
Early on, the book chronicles the story of Kobe Bryant, from his young days in Italy, to a high school superstar in the states and then his career with the Lakers. A lot of the story centers on the relationships between Kobe and Shaq, as well as how the Lakers power duo interacted with coach Phil Jackson… separately and together.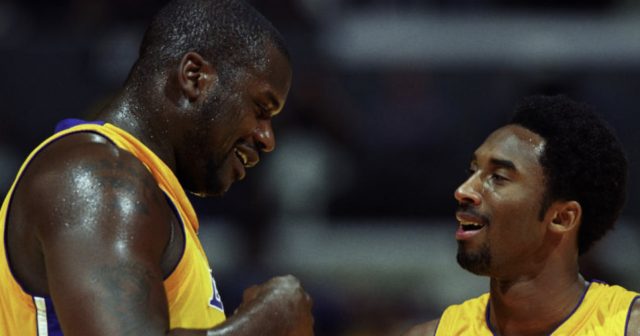 One of the standout stories from the book comes from a story told by Olden Polynice, all about Kobe's constant ragging on O'Neal… saying the Lakers were "my team" (Kobe's) and that Shaq was "not a leader." Heated words during a team pickup game led to Shaq hauling off and slapping Kobe. Polynice it would have escalated even more, had he personally run over and grabbed the Big Diesel.
Eventually, it took more than one teammate to separate the two, and the game eventually continued. But it no longer felt even slightly relaxed or friendly. "We probably went up and down the court two more times," Polynice said. "Kobe goes to the basket, scores, screams at Shaq, 'Yeah, motherf—er! That s— ain't gonna stop me!'"
The way Polynice tells it, O'Neal grabbed the ball… the game stopped cold. "Say another motherf—ing word," he said, staring directly at Bryant. "Aw, f— you," Bryant said. "You don't kn–" And before Kobe could finish, Shaq slapped him across the face. Hard. 
O'Neal slapped Bryant across the face. Hard. Teammate Corrie Blount told Perlman, "His hands are huge… The noise was loud." Polynice says Shaq took another swing at Kobe, but missed. In fact, Polynice says, "Shaq keeps swinging, but everything's missing because I have his arms. I'm grabbing on to Shaq, holding on for dear life, yelling, 'Somebody grab Kobe! Seriously — somebody grab him!' 
Polynice says he took a sidearm shot from Shaq as the big man tried to escape the hold and get back to Kobe, "I'm telling you, if Shaq gets loose he would have killed Kobe Bryant. I am not exaggerating. It was along the lines of an I-want-to-kill-you-right-now punch. He wanted to end Kobe's life in that moment." The altercation was finally broken up when O'Neal bodyguard Jerome Crawford stepped in to calm his friend down. 
Wow…that's just one story from the new book! Hopefully, we get more looks inside in the days to come. Lots of juicy, good new stories of a time when the stars aligned and legends were made.