With the NBA Finals getting started, a very cool, fun, Shaq-related statistic has surfaced. Yes, Shaquille O'Neal's name is still out there, years after Shaq left his playing days behind. 
Here it is: since 1984, there hasn't been a finals without a Shaquille O'Neal teammate in it. Great teams? Great teammates? You decide!
Thanks to Yahoo! Sports and ClutchPoints.com for bringing this one to light. For some, you have to do a little digging. How about Jared Dudley – who played with Shaq on the Phoenix Suns? A buried gem, for sure. Here's the softball: LeBron James on this Lakers this year. King James and Shaq crossed paths in Shaq's short stay in Cleveland, during LeBron's days with the Cavaliers. 
There are others: Shaq played with Rajon Rondo and the Celtics at the very end of his career.  
Shaq's former teammates are still making waves, that's for sure. Yet as Yahoo! Sports points out, it's going to be interesting to see how that stat works with LeBron James as well… he's got plenty of winning teammates as well.
James has played in every NBA Finals since 2011 besides last year's injury-barred season. Still, perhaps what's more impressive is the collection of players he's played with that made Finals appearances eight years before O'Neal even got in the league.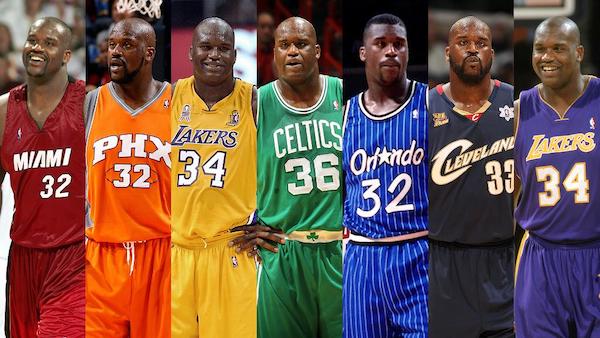 Interested in the roster? Here it is: 
1984: Greg Kite
1985: Byron Scott
1986: Greg Kite
1987-1988: Byron Scott/A.C. Green
1989-1990: Dennis Rodman, John Saley
1991-1993: Horace Grant
1994-1995: Robert Horry
1996-1998: Ron Harper, Steve Kerr, Dennis Rodman
1999: Steve Kerr
2000-2002: Shaq
2003: Steve Kerr
2004: Slden Campbell
2005: Robert Horry
2006: Shaq
2007: Robert Horry
2008: James Posey
2009-2010: Kobe Bryant, Derek Fisher, Luke Walton
2011: Sasha Pavlovic
2012-2013: Dwyane Wade, LeBron James
2014: Boris Diaw, Danny Green
2015: Leandro Barbosa
2016: LeBron James
2017: Matt Barnes
2018: First year a Shaq teammate hasn't won since 1983 though LeBron was on the losing side.
2019: Danny Green
Shaq teammates still in the NBA
LeBron James

Danny Green

Avery Bradley

Rajon Rondo

Jeff Green

Goran Dragic

Robin Lopez