Did you see it? It was on a few times during Game One of the NBA Finals last night (as of this writing). If you've watched any NBA games from "the bubble" in Orlando, you know that fans have been in attendance…virtually.
Through various promotional programs, fans were given the opportunity to "be there" at the game through a video internet stream. Some teams had signup contests for the virtual seats, others were awarded through a promotion with Michelob Ultra beer. 
Winning fans showed up at the game via Microsoft Teams, a Zoom-like app that brings people together for online conferences for fun and business. If you've watched any NBA action from the bubble, you have to have seen the TV commercials. 
It's actually been fun and kinda cool to see who shows up in the virtual fan seats. Yes, there have been some teddy bears and other non-human fans, but it's the humans that did show up that made the people-watching all the more interesting. 
So… Finals Game One. The biggest names and A-List celebs were part of the courtside action. And of course that included our man Shaq! Yet when O'Neal came up on the big screens, you might have been a little distracted by some of the other superstars in sight. Right there next to Shaq… former President Barack Obama.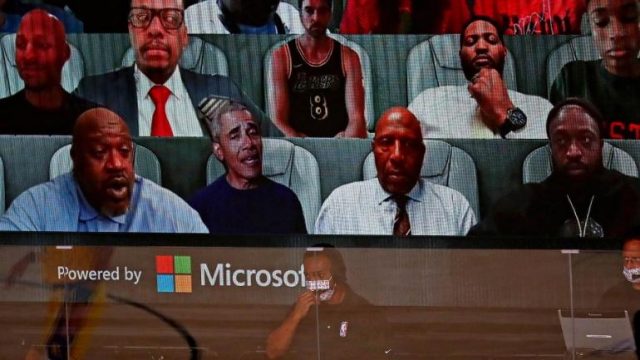 Obama sat to Shaq's left (on screen). To his right? Popular TV personality Robin Roberts (co-anchor of ABC-TV's "Good Morning America" program, and overall cool lady. Not far away, Dallas Mavs star Dirk Nowitzki and former Miami superstar Dwayne Wade. 
Those guys weren't the only former NBA stars and champions making a virtual showing. Spread around the crowd: Bill Walton, Clyde Drexler, Isiah Thomas, and James Worthy. Worthy had the seat on the other side of Obama, next to Shaq. 
Even more big names to be spotted: Manu Ginobli, Pau Gasol, Ray Allen, Robert Horry, Robert Parish, Chauncey Billups and Paul Pierce. Hats off to Pau Gasol… he was spotted wearing a Kobe Bryant Number 8 jersey in the Black Mamba color scheme. By the way, the present-day Lakers will most likely be wearing the same colors in their Game 2 matchup in the NBA Finals. That game is set for later tonight (again, as this is written). 
For a full look at the video from Game One, check out the full Twitter post from the NBA TV account: https://twitter.com/NBATV/status/1311478531549880321?s=20