Bubble or no bubble… pandemic or no pandemic. The Los Angeles Lakers beat the Miami Heat in Game Six of the NBA Finals last night, claiming their latest Championship. Lebron James was named series MVP.
Winning an NBA championship is nothing new for the Los Angeles Lakers. They have been in the finals a record 31 times since winning the title on their first trip in 1950, and they tied the Boston Celtics with 17 championships. Quite a long-term record!
Speaking of long-term, what a season! From start (last fall) to finish (this fall) the season lasted almost a full YEAR. 356 days, to be exact. 
Before presenting the Larry O'Brien Trophy to Lakers controlling owner and President Jeanie Buss, NBA commissioner Adam Silver talked about everything his league and its players had endured just to make it to this finish line."We found a way to play through a pandemic, keep everyone safe and put a spotlight on these critically important [social justice] issues," Silver said. "For that, every team deserves to be celebrated."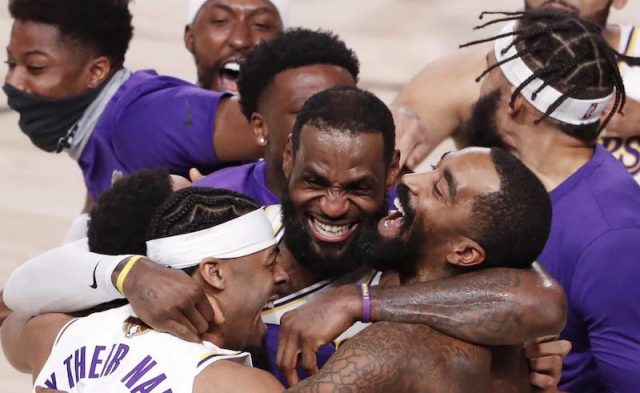 As for Buss, she was equally impressed with the way the league and its players handled the very difficult conditions. Speaking just before the game, she said, "We've all been challenged so much in 2020. It really takes your breath away. That is what families do for each other," Buss said. "Lift each other up when they feel like they can't go on."
And of course, Kobe's spirit and memory was everywhere for the Lakers, on and off the court. Bryant and his daughter Gianna died along with several others in a helicopter crash back in January. So much of this season was dedicated to his memory…and many of the players hoisting the Championship trophy last night talked about him and what he meant to current players. 
In a column for The Guardian online newspaper, former Lakers superstar Kareen Abdul-Jabbar wrote about series MVP James… not just about his on-court work, but his efforts on behalf of social justice, as well.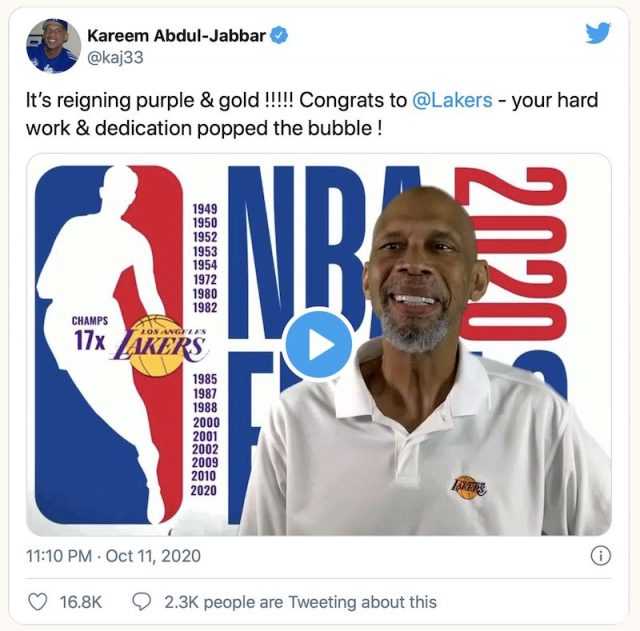 Kareem wrote: "Though many NBA players throughout the season were vocal about their support for equality, the finals brought the focus on one man as the symbol of the merging of athletics and ethics: LeBron James. To be a symbol, one must excel at their sport. Watching LeBron's chiseled Mount Rushmore face of determination as he displayed a dazzling blend of agility, grace, power and surgical skill that clearly amped up his teammates to push themselves harder and higher showed he deserves every accolade he gets. But his unwavering willingness to continue to convince the disillusioned and disenfranchised why they need to vote, makes him the embodiment of this NBA championship triumph."
There were a few tough moments, even if they took place on the other side of the country. At least 76 people were arrested in downtown Los Angeles on Sunday night following the Lakers' NBA championship win.
The Los Angeles Police Department said the arrests included suspicion of vandalism, unlawful assembly and failure to disperse after a crowd of more than 1,000 converged near Staples Center in L.A. 
LAPD Chief Michel Moore took to Twitter to urge fans to "celebrate responsibly," but reports of vandalism and firecrackers began pouring in as the night wore on, including a Metro bus that was briefly set ablaze and a Starbucks that was ransacked near the arena.