Here at the ShaqFu Radio blog, we talk (and post) a lot about Shaq's business deals. He's been involved in big-money business as an owner, an investor and even a Board of Directors member. Now, Shaq is spilling the beans on where some of that business-smarts came from.
Turns out another former Laker who's done pretty well for himself in business (to put it lightly) helped to influence O'Neal and his own business path after basketball. Magic Johnson has a HUGE business that has grown for almost 40 years across many businesses, foundations and more. His company owns – or is part owner – of several sports franchises; owns dozens of restaurants and other businesses. At one time his company owned more than 100 Starbucks locations, but sold them back to the company years ago. 
Needless to say, Johnson's company could (and does) serve as a powerful role model for other companies and foundation that seek to make a positive impact on their communities and the people who live in them. While Magic was a huge influence on the game of basketball, he's probably making an even bigger impact on a wider stage now. 
Much like Magic Johnson, Shaq has put his NBA fame and fortune to good use after his on-court days ended. We know him best for his seat at the table on the popular "Inside the NBA" program on TNT, along with Charles Barkley, Kenny Smith and Ernie Johnson. 
Recently, Shaq talked about business and the influence he's received from Magic Johnson during an online interview for a live streaming event called "Black Entrepreneur's Day." O'Neal gave props to Johnson and also Daymond John of Shark Tank fame.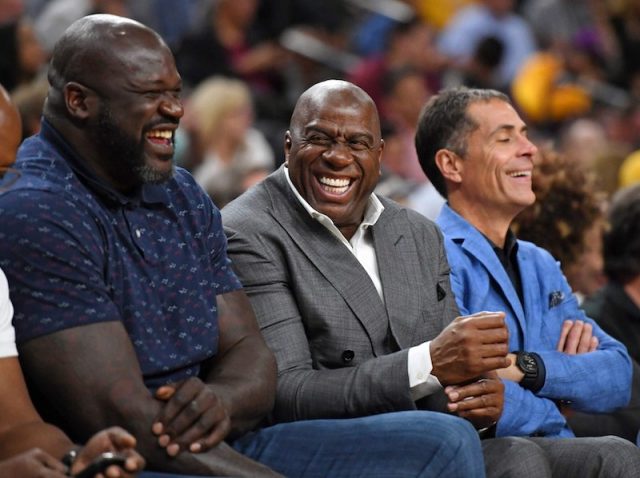 In the interview, Shaq said, "I know what you're getting ready to ask me, so I'm going to go ahead and answer it for you. Where did I get my business acumen from? I got it from two people. Magic Johnson, when I first got to L.A., said, 'Shaq, it's OK to be famous and all that, but at some point, you want to start owning things.'
"So the first thing I said was, 'I want to own a clothing line.' So I'm doing my little thing, own my clothing line, and I'm looking at the numbers. I see FUBU and their numbers are killing my numbers. Now I'm like, 'Man, who are these FUBU cats?' I started watching them and I learned a lot. We met, you always took care of me, you always gave me knowledge. You and Magic helped me get started."
Johnson is one of the prime examples (but certainly not the only) of a great player in sports leveraging that fame and fortune to make a big splash in other parts of life. 
Thanks to the website LakersNation.com for the heads-up on this story, and for this NBA news-note as well:
After several weeks of discussions, the NBA and NBPA (the Players' Association) have finally come to an agreement for the next NBA season schedule. Of course it's been a crazy just-completed season, with that big hole in the middle due to the Covid-19 lockdown. Now it seems the two sides have approved an official start days of December 22 for the 2020-21 season.
This is actually a pretty big win for the league and team owners, as they should be able to make up for some of the expected lost revenue teams will experience as a result of the ongoing coronavirus (COVID-19) pandemic.