It's always one of the great off-season debates: Who gets in and who doesn't… to the (insert your favorite sport here) Hall of Fame. On a recent podcast, Shaq kinda, sorta, went both ways when it came to the name: Bill Walton.  
Shaq did a little thinking out loud on a recent episode of "The Big Podcast with Shaq." At first, the NBA legend-turned businessman said Walton was not Hall of Fame material to him. Keep in mind that in his long career, Bill Walton won two league titles, one Finals MVP, and one regular-season MVP. Not enough for the Hall of Fame? Really? 
On the podcast, O'Neal said he used the ideas of fellow HOF member Isiah Thomas, who gave his definition of what makes a legitimate Hall of Famer. Then, he laid out his argument on why Walton doesn't make the grade. (Spoiler alert – keep an open mind on this!) 
Shaq: "Isiah Thomas explained this to me. There's two types of Hall of Famers: there's a bad mofo, shut-your-mouth Hall of Famer, which I happen to be a proud member of. Then there's the other Hall of Fame," Shaquille O'Neal explained.
Now, what that "other" means for getting into the Hall is a bit unclear. Shaq didn't really talk about it much. Still, we can make some educated guesses. Career stats? Contribution to overall team efforts? On and off the court contributions to the game and community? Probably all part of the final grade.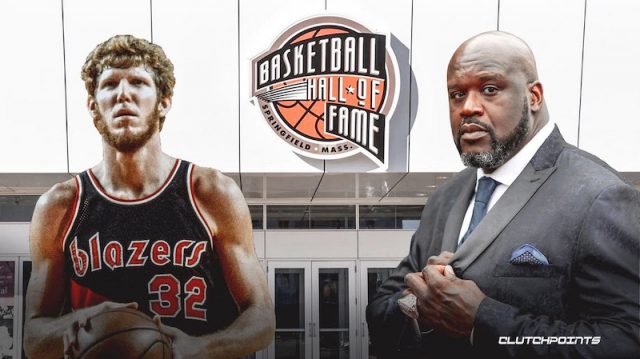 And while O'Neal said – at first – that he didn't think Walton made the final cut to be inducted, he seemed to change his tune just a few minutes later. Shaq said someone reminded him that it's not just the NBA Hall of Fame, it's the BASKETBALL Hall of Fame. Guess that means it can include contributions to the game made in capacities other than the Association. 
That seemed to put Walton over the top in Shaq's mind. "So, based on that, yeah, he's in. Because he did work in high school, he won in college, and he won one in the NBA."
For basketball (not just NBA!) historians, remember that Walton won two championships and three National Player of the Year awards in a row at UCLA. This propelled him to be the top overall pick in the 1974 NBA Draft.
Come 1977, Bill Walton led the Portland Trail Blazers to an NBA title where he was crowned Finals MVP. The following season, he was named Most Valuable Player.
Unfortunately, things went downhill from there as Walton suffered tons of injuries, which pretty much hampered his career. Fortunately for him, he won another title with the Boston Celtics in 1986 as a reserve.
Tip 'o the hat and thanks to our friends at ClutchPoints.com for the original reporting on this story.